Livenewsgh Outdoors New Studio And Creative Hub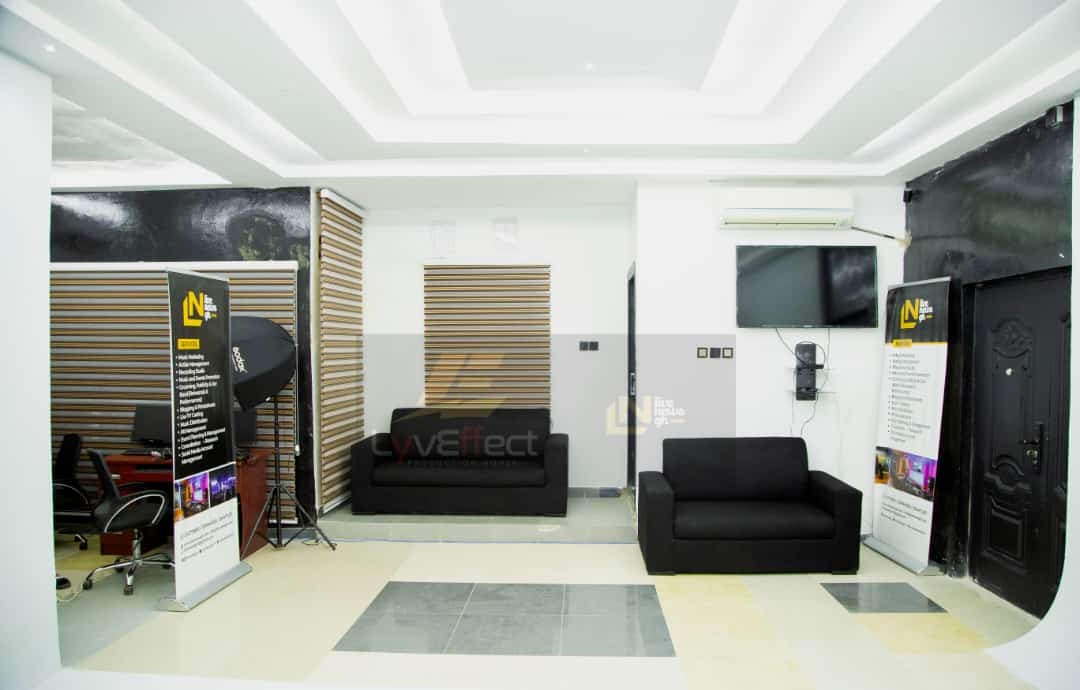 Entertainment news agency and production house, Livenewsgh has launched and outdoors its new studio and creative hub. The new  edifice will be the home of the company's direction of being center stage in accurate reportage and rendering up-to-date music and entertainment services to its patrons.
The company targets to be a key influencer in creating industry conversations that will activate productive discourse and also plans to interact directly with artists, record labels, and corporate bodies. The outdoored studio forms part of the rebranding process of the news agency as they target the millennium generation of the entertainment ecosystem.
The services offered by LIVENEWS GH include;
Live TV Casting
Video shoot and photoshoot
Documentary
Adverts
Event Planning And Management
Social media accounts management
TV Productions
Follow livenewsgh for more updates
Livenewsgh.com (website)
Livenewsghana ( Facebook)
Livenewsgh (twitter and Instagram)
Email:livenewsgh15@gmail.com
Contact: 0247758810,0599940839,0504074281
Zolla Nie
Pictures Of Studio Below:
Westline Entertainment Opens Nominations For 2023 Western Music Awards
Westline Entertainment, organizers of the prestigious Western Music Awards have opened nominations for the 7th edition.
The awards schemes has 29 categories in this year's edition, taking out one category from last year. "The 'Most streamed Artiste of the year' became a challenge last year as Artistes were submitting conflicting figures from different streaming platforms.
There is therefore the need for a clear definition with concentration on which of the streaming platforms we will concentrate on to determine the winner so for now it's out, pending the board's final decision" Nana Kwesi Coomson, head of Public Relations of Western Music Awards noted.
Works of Artistes and other stakeholders from February 2022 to January 2023 are considered eligible for this year's Western Music Awards.
The deadline for nominations is April 30, 2023.
According to the Public Relations Department of the organizers, the theme for this year's Western Music Awards is 'This Is Music.'
All entries should be submitted via www.wmagh.com/submission by April 30, 2023.
The categories up for nomination include:
Afropop Song of the year
Album/EP of the year
Artiste of the Year
Best Blogger/ Promoter of the year
Brass Band of the year
Best Collaboration of the year
Entertainment Show of the year
Most Popular Ghanaian Song of the year
Gospel Artiste of the year
Gospel Song of the year
Group of the year
Highlife Artiste of the year
Highlife Song of the year
Hiplife Artiste of the year
Hiplife Song of the year
Hiphop Artiste of the year
Hiphop Song of the year
Music Video of the year
New Artiste of the year
Music Producer of the year
Radio DJ of the year
Rapper of the year
Reggae/Dancehall Artiste of the year
Reggae/Dancehall Song of the year
Most Popular Regional song of the year
Song Writer of the year
Urban Gospel Song of the year
Western Diaspora Artiste of the year
Best Instrumentalist of the year