Nůdity is Art Not Sin: Ghanaian Queer Model / Nùdist Nessanaj Replies Critics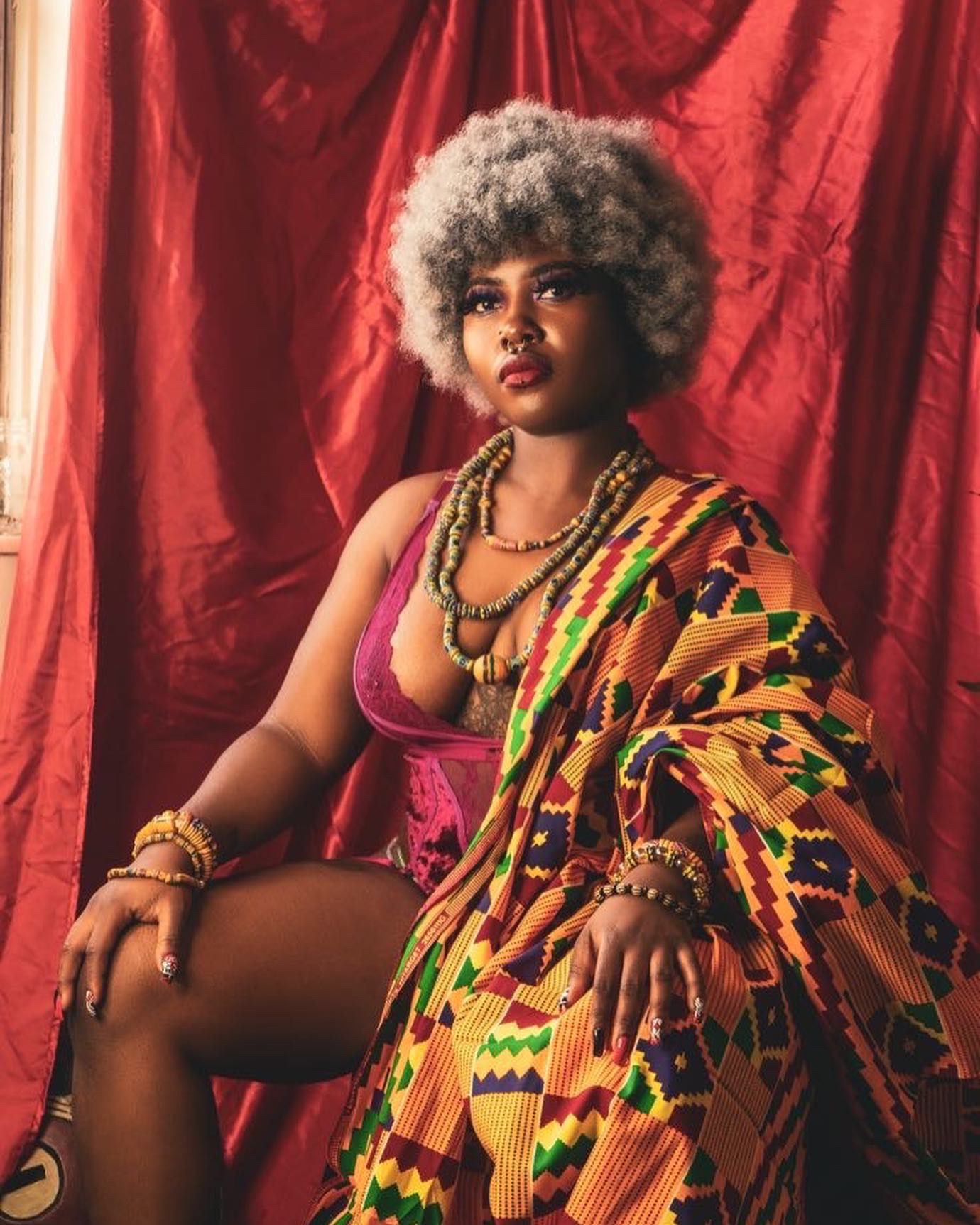 From posing for artistic photo shoots to performing exquisitely in several music videos ; Nessanaj has abruptly come up in the world as one of the top-notch Instagram models and video vixens to emerge  from Ghana.
Born Vanessa Nana Ama Berchie ,  the Ghanaian model is keen on creating intriguing content to serve social media followers.
The model identifies herself as queer and a nùdist inspite of the vituperation she has received from critics and social media users.
Nessa believes nůdity is just an art and not a sin as most devout  religious people would  claim.
Nessanaj  is a master of her craft and her  style is irreproachable. Accordng to the voguish  model,  she discovered her talent as a photo model when she was young ,and decided to commercialize it in 2015 while she was in New York.
Nessa is a brand ambassador for Ashanti Beads and has been modeling for the clothing brand for the past 6 years.
She is a music influencer , and has also starred in music videos including that of Ghanaian artistes Kwaku DMC , Larusso, Pink Siifu who is an American artiste and more.
Nessanaj is open to work with modeling agencies,  corporate entities ,artistes and all that will need the services of model and video vixen.
Interact with her on social media:
Facebook : https://www.facebook.com/vannessa.berchie.7
Instagram :Click here to follow: https://instagram.com/nessanaj?igshid=YmMyMTA2M2Y=
Twitter: https://twitter.com/Purple_adictt?t=1VJp8EKRLrDFpXsE2KstnQ&s=09
Snapchat: https://www.snapchat.com/add/nessanaj_lit?share_id=Z5pn2kAfVIs&locale=en-GB
Watch captivating photos from her Instagram page:
Westline Entertainment Opens Nominations For 2023 Western Music Awards
Westline Entertainment, organizers of the prestigious Western Music Awards have opened nominations for the 7th edition.
The awards schemes has 29 categories in this year's edition, taking out one category from last year. "The 'Most streamed Artiste of the year' became a challenge last year as Artistes were submitting conflicting figures from different streaming platforms.
There is therefore the need for a clear definition with concentration on which of the streaming platforms we will concentrate on to determine the winner so for now it's out, pending the board's final decision" Nana Kwesi Coomson, head of Public Relations of Western Music Awards noted.
Works of Artistes and other stakeholders from February 2022 to January 2023 are considered eligible for this year's Western Music Awards.
The deadline for nominations is April 30, 2023.
According to the Public Relations Department of the organizers, the theme for this year's Western Music Awards is 'This Is Music.'
All entries should be submitted via www.wmagh.com/submission by April 30, 2023.
The categories up for nomination include:
Afropop Song of the year
Album/EP of the year
Artiste of the Year
Best Blogger/ Promoter of the year
Brass Band of the year
Best Collaboration of the year
Entertainment Show of the year
Most Popular Ghanaian Song of the year
Gospel Artiste of the year
Gospel Song of the year
Group of the year
Highlife Artiste of the year
Highlife Song of the year
Hiplife Artiste of the year
Hiplife Song of the year
Hiphop Artiste of the year
Hiphop Song of the year
Music Video of the year
New Artiste of the year
Music Producer of the year
Radio DJ of the year
Rapper of the year
Reggae/Dancehall Artiste of the year
Reggae/Dancehall Song of the year
Most Popular Regional song of the year
Song Writer of the year
Urban Gospel Song of the year
Western Diaspora Artiste of the year
Best Instrumentalist of the year