"Any Woman Who Calls Her Fellow Woman Barren Is A Witch" – Shatana Laments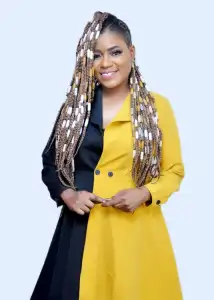 Versatile Afrobeat cum Dancehall songstress, Shatana has made some damning remarks against women who call their fellow women barren.
It is not very long when actress, Afia Schwarzenegger called TV/Radio personality out for being supposedly 'barren' during the heat of a banter they have had some years ago. Afia received heavy trashing and backlashing from most people on social media for such atrocious comment against her former boss and a fellow woman at that.
Amongst them is female musician, Shatana who has called this act atrocious. She voiced that there sometimes may be a divine reason why someone may be barren. " Even in the bible, that is, Genesis Chapter 29, God closed the womb of Rachel for a purpose", she quoted.
She opined that being barren is not a sin but sleeping with a dog and sex working is. She furthered by saying that any woman who calls her fellow woman barren is a witch.
It is a common rumour on the internet that Afia Schwarzenegger is a petty sex worker and she even sleeps with dogs. Afia Schwarzenegger is yet to react to Shatana's nudge.
Watch a video of what Shatana said.
Kwesi Arthur's "Winning" Makes NFL's Madden 23 Soundtrack
Kwesi Arthur keeps winning.
Ghanaian rap artist Kwesi Arthur did not just settle on Winning as a track title as the song keeps winning.
Aside from making impressive streams since its release, the Vic Mensa-assisted track has made the cut for the NFL's Madden 23 Soundtrack.
This year's game features more than 30 songs on the track list, with heavy hitters Kendrick Lamar, Snoop Dogg, Nas, Tyler, the Creator amongst others.
For the first time in franchise history, the soundtrack has a prize quarterback, with 3-time GRAMMY® winning writer/producer/rapper Hit-Boy creating 33 exclusive beats for the game's cinematics.
In addition, Hit-Boy and two-time GRAMMY®nominee Cordae collaborated on the bespoke track 'CHECKMATE', which will debut in Madden NFL 23 around NFL Kickoff.
Here is the full list of songs included in Madden 23:
| Track No. | Song | Artist(s) |
| --- | --- | --- |
| 1 | "Logic (Lucky Charm Freestyle)" | Charmaine |
| 2 | "Cold" | King Green |
| 3 | "Touchdown" | Lord Afrixana |
| 4 | "Winning" | Kwesi Arthur feat. Vic Mensa |
| 5 | "The Best (TUA Remix)" | Eric Banks |
| 6 | "Sinister" | Cordae feat. Lil Wayne |
| 7 | "Hold Me" | Malachiii |
| 8 | "The Intro" | Risqkae feat. Rti$ |
| 9 | "Meet Joe Black" | Nas |
| 10 | "ENERGY!" | Cam Wallace |
| 11 | "You Gotta Choose" | Simon Said, Jazzfeezy ft. Steve Samson |
| 12 | "Come On, Let's Go" | Nigo feat. Tyler, the Creator |
| 13 | "Run It Up" | Bas |
| 14 | "Remember Me" | Benny the Butcher |
| 15 | "Impossible" | Blackway, Aeph, Koko |
| 16 | "LEVELS" | Boslen |
| 17 | "One Shot" | Gizzle feat. BRE-Z |
| 18 | "Are You Ready" | Marques Clae |
| 19 | "Put Me In The Game" | Symba |
| 20 | "How To Be A Star" | Malachiii |
| 21 | "Black Superhero" | Robert Glasper feat. Killer Mike, BJ the Chicago Kid and Big KRIT |
| 22 | "Crazy" | Doechii |
| 23 | "505" | Coast Concha |
| 24 | "GHETTO GODS" | EARTHGANG |
| 25 | "THE REV3NGE" | Joey Bad4$$ |
| 26 | "No Biggie" | Pop Chanel |
| 27 | "Champions" | Ty Dolla $ign feat. Wiz Khalifa |
| 28 | "Tear It Down" | Aha Gazelle |
| 29 | "Lifestyle" | Dreamville, Bas feat. A$AP Ferg |
| 30 | "Any Given Sunday" | OnCue |
| 31 | "Hit 'Em" | Cypress Hill |
| 32 | "Run It Up" | IMRSQD |
| 33 | "Scrape It Off" | Pusha T feat. Lil Uzi Vert and Don Toliver |
| 34 | "Conflicted" | Snoop Dogg feat. Nas |
| 35 | "Whole Team" | Trev Rich, Wallis Lane |
| 36 | "EXTRA CREDIT" | Big KRIT |
| 37 | "N95" | Kendrick Lamar |
| 38 | "Go Get It" | Symba |
| 39 | "Get Some Money" | Killer Mike |