"Any Woman Who Calls Her Fellow Woman Barren Is A Witch" – Shatana Laments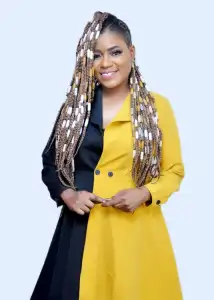 Versatile Afrobeat cum Dancehall songstress, Shatana has made some damning remarks against women who call their fellow women barren.
It is not very long when actress, Afia Schwarzenegger called TV/Radio personality out for being supposedly 'barren' during the heat of a banter they have had some years ago. Afia received heavy trashing and backlashing from most people on social media for such atrocious comment against her former boss and a fellow woman at that.
Amongst them is female musician, Shatana who has called this act atrocious. She voiced that there sometimes may be a divine reason why someone may be barren. " Even in the bible, that is, Genesis Chapter 29, God closed the womb of Rachel for a purpose", she quoted.
She opined that being barren is not a sin but sleeping with a dog and sex working is. She furthered by saying that any woman who calls her fellow woman barren is a witch.
It is a common rumour on the internet that Afia Schwarzenegger is a petty sex worker and she even sleeps with dogs. Afia Schwarzenegger is yet to react to Shatana's nudge.
Watch a video of what Shatana said.
Westline Entertainment Opens Nominations For 2023 Western Music Awards
Westline Entertainment, organizers of the prestigious Western Music Awards have opened nominations for the 7th edition.
The awards schemes has 29 categories in this year's edition, taking out one category from last year. "The 'Most streamed Artiste of the year' became a challenge last year as Artistes were submitting conflicting figures from different streaming platforms.
There is therefore the need for a clear definition with concentration on which of the streaming platforms we will concentrate on to determine the winner so for now it's out, pending the board's final decision" Nana Kwesi Coomson, head of Public Relations of Western Music Awards noted.
Works of Artistes and other stakeholders from February 2022 to January 2023 are considered eligible for this year's Western Music Awards.
The deadline for nominations is April 30, 2023.
According to the Public Relations Department of the organizers, the theme for this year's Western Music Awards is 'This Is Music.'
All entries should be submitted via www.wmagh.com/submission by April 30, 2023.
The categories up for nomination include:
Afropop Song of the year
Album/EP of the year
Artiste of the Year
Best Blogger/ Promoter of the year
Brass Band of the year
Best Collaboration of the year
Entertainment Show of the year
Most Popular Ghanaian Song of the year
Gospel Artiste of the year
Gospel Song of the year
Group of the year
Highlife Artiste of the year
Highlife Song of the year
Hiplife Artiste of the year
Hiplife Song of the year
Hiphop Artiste of the year
Hiphop Song of the year
Music Video of the year
New Artiste of the year
Music Producer of the year
Radio DJ of the year
Rapper of the year
Reggae/Dancehall Artiste of the year
Reggae/Dancehall Song of the year
Most Popular Regional song of the year
Song Writer of the year
Urban Gospel Song of the year
Western Diaspora Artiste of the year
Best Instrumentalist of the year