GlennSamm Within The Realms Of Possibility Outdoors 'Tsadidi Street Art Festival' At Hogbetsotso '22, Promises A Jaw-Dropping Art Festival In 2023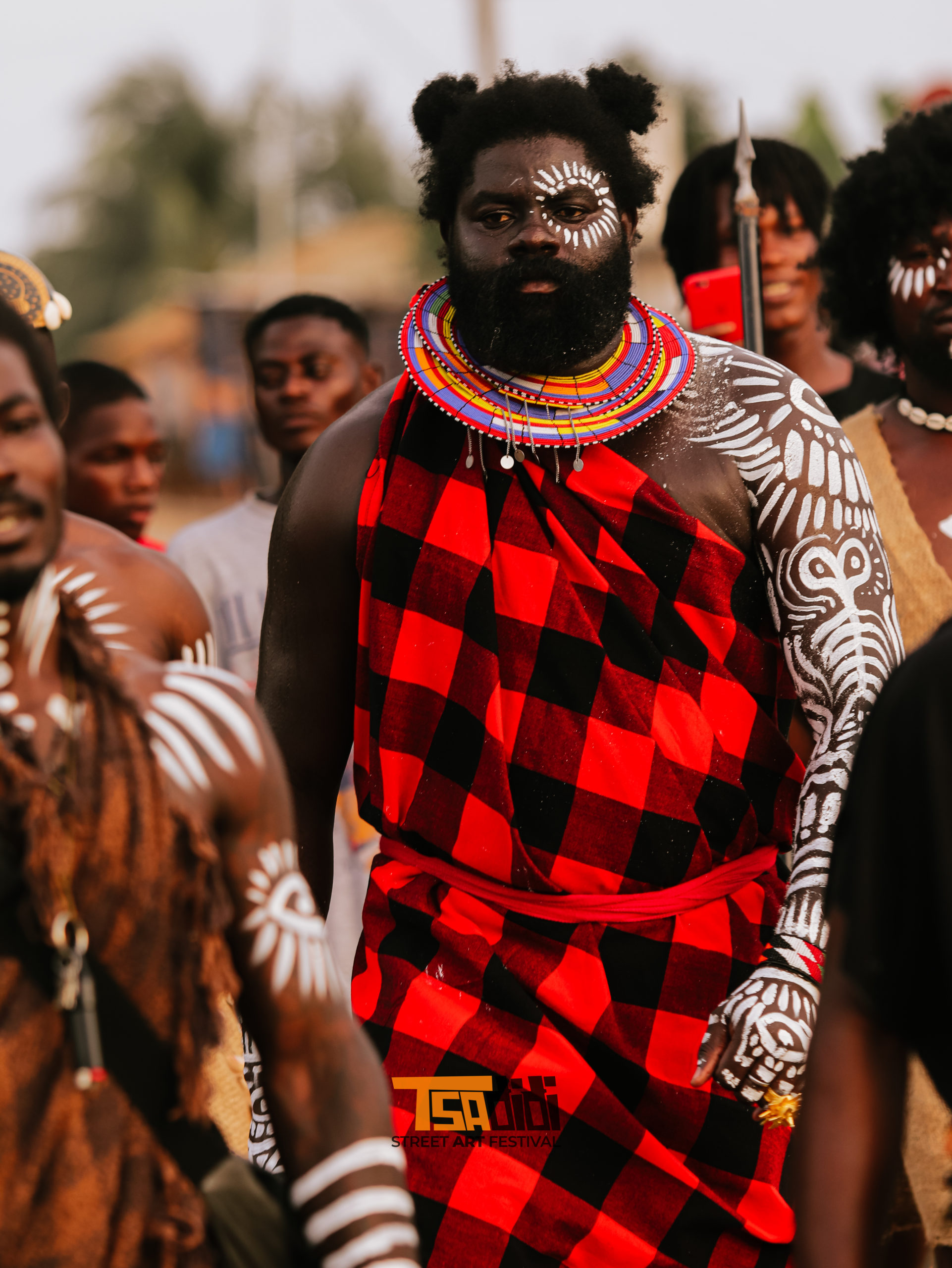 Award-winning fashion influencer and walking artiste Samuel Glenn Semakor popularly known as GlennSamm has remarkably launched the maiden edition of 'Tsadidi Street Art Festival' at the just-ended Hogbetsotso Festival '22.
After a successful launch, GlennSamm together with his abled team KvngsOfTheNewSchool extended their utmost gratitude to the elders, patrons, participants and all who supported in making the maiden edition of the festival fruitful beyond reasonable doubt and pledged to pull a stunning show next year.
As the name implies, Tsadidi festival commenced with a brass band procession from Vui through Dzelukope, Abutiakope, Kedzikope and ended at Fort Prinzenstein in Keta – Volta Region on the 5th of November.
The Tsadidi Street Art Festival was curated as part of events to provide recreational and tourism activity to celebrants of the Hogbetsotso festival of the Anlos.
The Festival is a day that reminisces Ewe history based on mystical powers, and heroic acts by men of courage and foresight that liberated the Ewe-Dogbo people from the rule of the tyrant King of Kings Torgbui Agorkorli of Nortsie in Togo.
However, the launch and median edition of the 2022 Tsadidi Street Art Festival witnessed activities such as art processions, fashion/art exhibitions and the mural graffiti around the Keta fort prinzentein which saw patrons taking pictures and socializing.
In an interview with GlennSamm who birthed the Tsadidi Street Art Festival, he says the dynamics of the 2022 and the following year's festivals will continue to unfold a lot of creativity on Street Art for people who come for the Hogbetsotso festival to have more fun and enjoy an educative and well-structured show.
Next "year's Tsadidi Street Art Festival will provide more activities for patrons, and a variety of entertainment with a focus on Street Arts. After observing the traditional rites, we will still have a lot to engage celebrants, 2023 has a lot on the table, plans are already being looked at by the team and myself and am confident it will be massive. I am using this medium to welcome companies and individuals on board to support this very successful and ongoing initiative.
This is to ensure an impactful festival and also strengthen the growth and influence of African festivals worldwide" the 2022 Pulse Influencer Award Winner said.
View this post on Instagram
View this post on Instagram
Nigerian Breakout Pheelz Releases Powerful New Single "Yolo"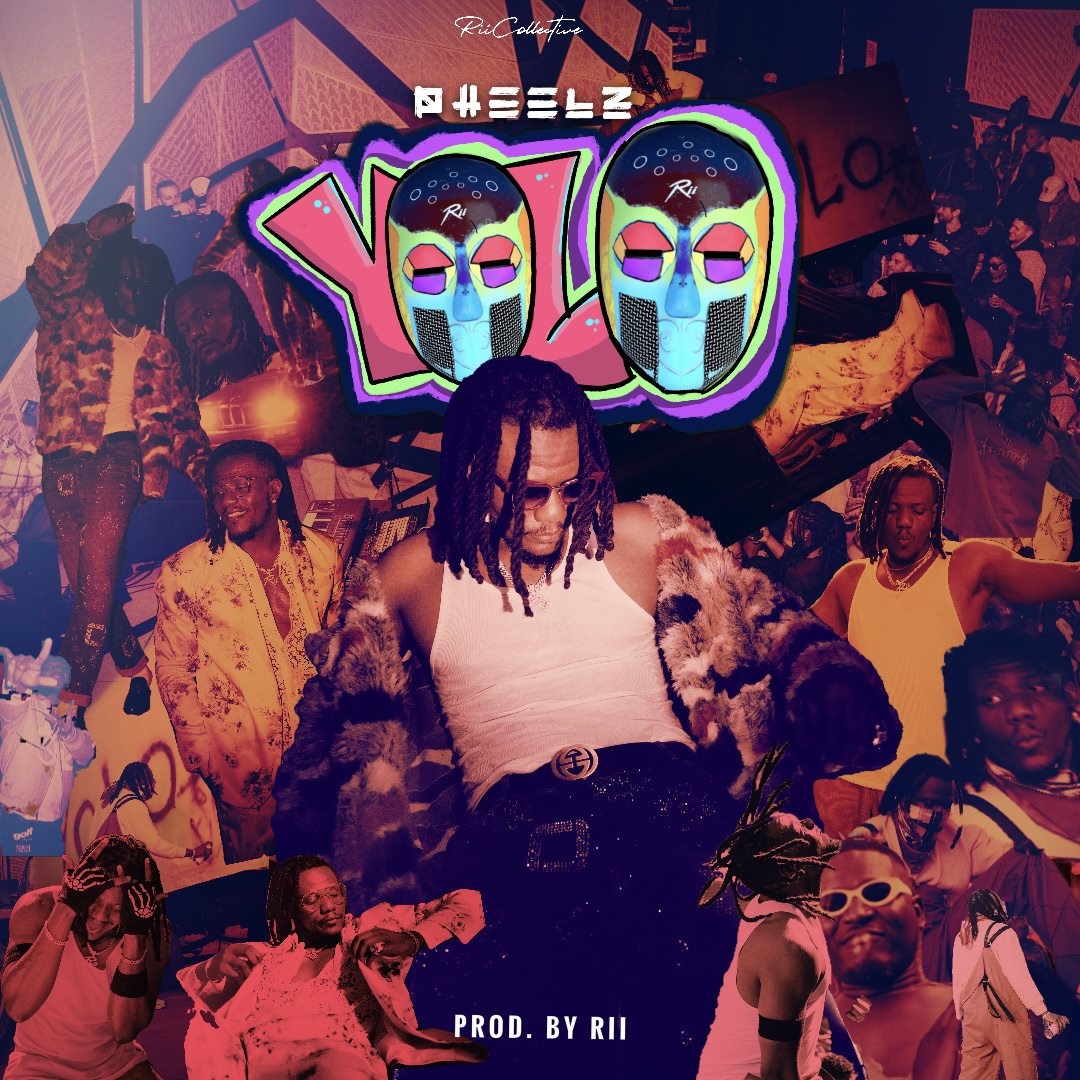 Breakout Nigerian singer, songwriter, producer, and multi-instrumentalist Pheelz returns with the soaring floor-filler "YOLO."
Listen HERE via DC Talent Agency. An infectious Afrobeats anthem with a powerful message, the global hitmaker's latest is emblematic of why his music is so captivating: good vibes. "YOLO" comes on the heels of Pheelz's acclaimed 2023 EP, Pheelz Good, and is accompanied by a suitably upbeat video. Watch it HERE.
"I'm chillin' with the vibe, let me go go go," the 28-year-old croons over a sea of percussion and choral backup. That leads up to the uplifting chorus: "We only got one life, I believe in YOLO."  Pheelz's silky smooth vocals effortlessly rides the hip-swinging rhythms, resulting in yet another banger with universal appeal. The song's feel-good quality is reflected in the video, which finds Pheelz enjoying the simple pleasures of life — bus rides, blowup pools, and nighttime drives — with his friends.
Pheelz Good has already amassed more than 100 million combined streams. The 8-song set boasts features from Davido ("Electricity") and BNXN ("Finesse") and deftly blends Afrobeats bangers with songs rooted in melodic R&B — all of which showcase the rising star's dazzling versatility and blinding future.
Pheelz was recently named "Artist To Watch" in 2023 by Pandora and Amazon music. After "Finesse" established Pheelz as an international star on the rise in 2022, he built on the momentum with a dazzling set at Essence Fest's Afrobeats After Dark party in New Orleans and made his US television debut with a performance on NBC's Late Show with Seth Meyers. Watch it HERE. Pheelz was also the first Afrobeats Artist to Perform at the BET Awards Pre-Show, where he earned a 2022 nomination for Best New International Act.
ABOUT PHEELZ:
Pheelz writes with passion and sings from his soul. Over the past few years, the Lagos artist has made songs that blur the boundaries between Afrobeats, R&B, and mainstream pop—using intense emotion and vibrant melody as a force that bridges diverse sounds and styles. Songs like "Finesse," featuring fellow Nigerian star BNXN, have started to resonate—bringing Pheelz' boundary-pushing music and earnest, heartwarming emotion to the top of the charts in the UK and his home country. In a sense, it's a moment that Pheelz has been working toward since he was a kid. Pheelz, born Phillip Kayode Moses in 1994, grew up singing and playing keyboards in the church run by his father, who is a pastor in Lagos. He soon began producing and he landed his first hit at 16—"First of all" by Olamide, a woozy, electronic hip-hop jam. Since then, Pheelz has become one of Nigeria's most in-demand producers, working on records for stars like M.I, Mr. Eazi, and more. In 2020, he won Producer of the Year at The Headies—Nigeria's hip-hop awards—and in 2021, he released his breezy Hear Me Out EP, which earned millions of streams and brought his emotional pop to even more listeners around the world. Even so, the success of "Finesse" has changed everything for Pheelz, except his mission to put all of himself into his songs. He's sure that this is just the beginning of a meteoric rise now that he's inked a deal with DC Talent Agencys. "I've been plotting for years. I was ready," he says. "I am ready."
FOLLOW PHEELZ:
Twitter | Instagram | Facebook | YouTube | TikTok | Spotify | Press Site
For more information, please contact: 
DC Talent Agency