Qelven Yebo Announces Presence With Kyoto Flow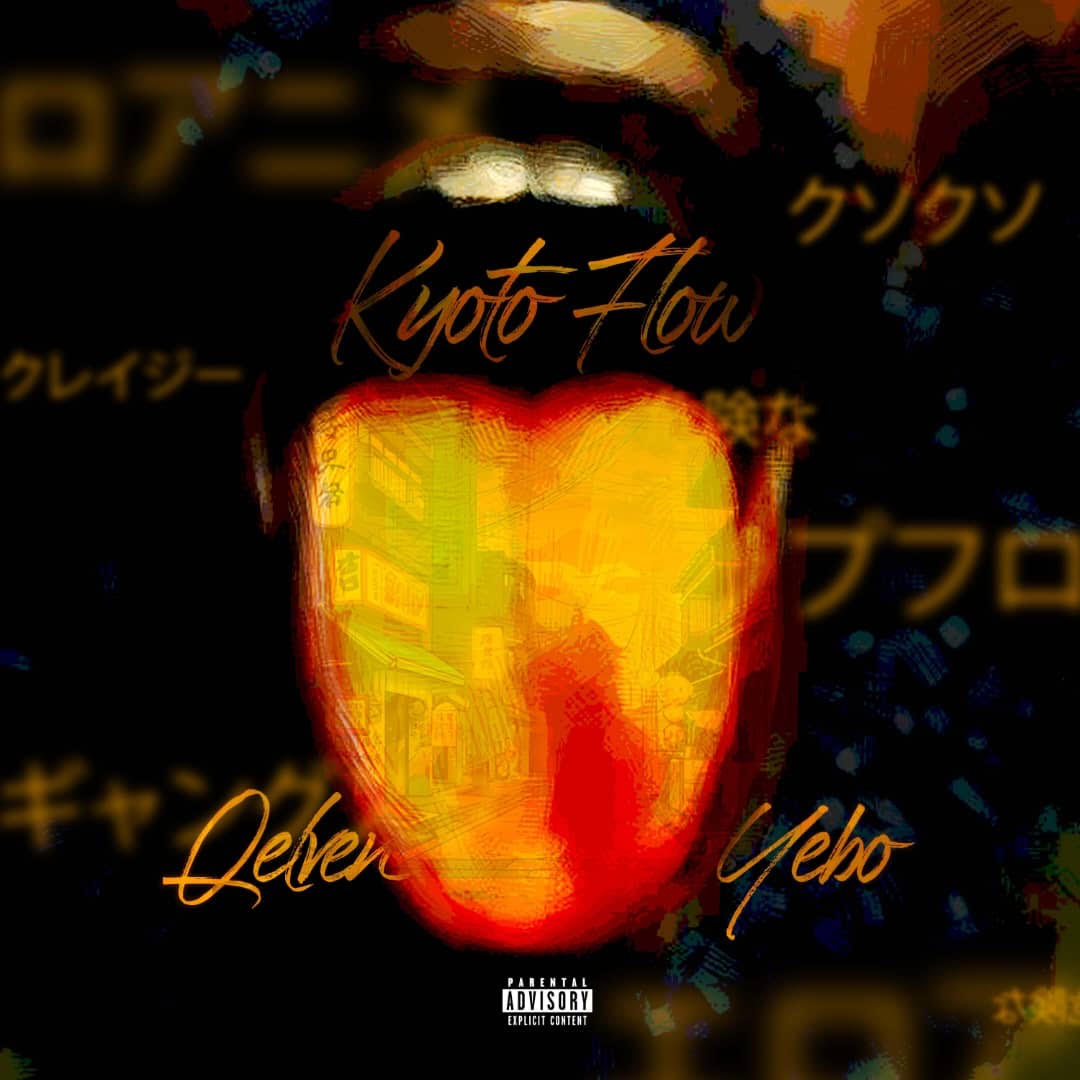 In as much as it brings growth to the industry, the discovery of young promising talents has always brought staggering Jim-Jams to reigning artistes for fear of being overtaken. Well, I hate to be a bearer of bad news to such camps as I unveil the new liege Lord in music with all confidence!
With a career spanning close to a decade, Kelvin Yeboah, a young talented composer, singer and a performer who goes by the moniker Qelven Yebo, has released another major single titled KYOTO FLOW and it is awe striking.
STREAM Here: https://ditto.fm/kyotoflow
Wow! Such uniqueness to behold. The entire production of the song is one that fits international standard and is distinctively a gamp of creativity that sends chills down ones spine without exaggeration. Without doubts, this record will be one of the banging evergreens 2023 will produce.
On kyoto flow, the singer, Qelven Yebo narrates his life's journey amidst some party vibes. The groove that comes with the song was creatively crafted to fit into a dj's playlist at any occasion or event.
Qelven Yebo's vision in the music business is to attract more international eyeballs to our local industry and he believe he has what it takes to achieve that. His experience as a musician spans from his secondary school days at adisadel college, through to performing on major stages with some industry big guns right after school. He has tested and passed all phases of the music game. From rap to singing melodies. A reason he is unbeatable in the music game.
The music aside, his achievements on the educational front cannot be overlooked. He attended Ghana Telecom University where he graduated with a degree in Bachelor's of communications in Accra. After graduating university, his interest for music increased and evidently, we are all Witnesses to that today.
His latest single, kyoto flow, a song to rule and top chats for months, was produced by one of the industry's revered beat makers, DatBeatGod.
Kyoto Flow is currently out on all digital platforms.
ARTISTE PROFILE
ABOUT THE ARTISTE
Kelvin Yeboah is a Ghanaian Afrobeats singer-songwriter with over five popular songs scattered across Ghana and Africa. He is known for his unique way of weaving creative yet inspiring words to entertain and inspire his listeners. Kelvin Yeboah's latest released single, kyoto flow is a continuation of his work to unite, inspire, entertain and enlighten a world full of trouble and pain.
BACKGROUND
Born and raised in Tesano, a small community in Greater Accra on Monday august 5, 1996, Kelvin Yeboah, known widely as Qelven Yebo, had a variety of both local and international role models who inspired his music journey even as a child. The likes Kojo Antwi, Daddy Lumba, Amakyi Dede, Boys || Men, Puff Daddy, Mick Knight, Lionel Richie, Bow Wow and Westlife contributed massively to his achievements in music today. His parents, Mrs. Freda Ewurafuah Gordon Yeboah and Mr. Steve Akwasi Dwumfuor Yeboah were also a greater inspiration. Their love for good music and constant cd purchase was a big deal to Cementing their son's feet in the Ghanaian music industry. They became his number one fan and coach after discovering the creative abilities he exerts in music.
DISCOGRAPHY
Qelven Yebo's talent as a singer and songwriter began to bud in high school in 2007. He was challenged to uncover his talent after being exposed to other budding talents in his first year at Adisadel College. This helped him polish his public relation and speaking skills through singing and rap competitions, MCing and other creative programs. By vacation, he had become very famous that he won the Male Vocalist in his first term at Adisadel College. This connected him to big guns like Kwabena Kwabena,Mud Fish, Asem, Appietus, Ashes amongst others. His connection with these personalities initiated his first debut single, get money, and then my girl, bagga,and okada which featured Kuami Eugene in the subsequent years with his mom as his manager and dad as his producer. However, things came to a standstill when his manager (mother) was diagnosed of acute kidney disease and later died as a result. Those were trying times for Qelven who was now living with his step mother. To get rid of the pain of losing someone as dear as a mother and manager, he got enrolled at the Ghana Telecommunication Technology University. While in school, his father urged him to go back for his music boots and face the world until the universe can't resist him anymore. The words of his father were so emotional that, it encouraged him to come back with kyoto flow after many years of being absent from the music scene.
EDUCATIONAL BACKGROUND
Qelven Yebo was so enthused with school even as a child. At age two (2), he was enrolled at HazelWay International School in Accra and then to Kent City Junior High School also in Accra. After successfully passing his BECE at Kent City Junior High, he gained admission into Adisadel College in the central region of Ghana where he offered General Arts. He completed in 2010 and moved to Ghana Telecommunication University Technology (GTUC) where he graduated with a degree in Bachelor of  science and Engineering Communication in 2020.
FAMILY
Qelven Yebo is the second of fourteen (14) siblings. His mother, Mrs. Freda Ewurafuah Gordon Yeboah until her demise was a business woman and his father, Mr. Steve Akwasi Dwumfour Yeboah  is also into business. He is the only person in the family who is into the creative arts and believe his chosen profession will soon draw the worlds attention to his family as other celebrated individuals like Micheal Jackson has done.
PERFORMANCES AND INTERVIEWS
Qelven Yebo has been in the entertainment space close to a decade. Even as a child growing up, he mounted big platforms like tv3's music music amongst other top notch performances. He has been interviewed by high profile personalities like Jon Germain, Ameyaw Debrah, Bola Ray and a host of other great commanders of the airwaves.
Ghanaian-Netherland Base H 4real Release New One Dubbed "Beautiful Girl"
Ghanaian, Netherland-based – Rising Afrobeat artist H. 4realhas release his upbeat new single "Beautiful Girl", in all digital stores worldwide, aiming to inspire an international dance challenge on TikTok and other social media platforms that celebrates women and cultural exchange.
"Beautiful Girl" takes its inspiration from the high-energy dance styles of Africa, with exclusive lyrics celebrating beauty in all its forms. H. 4real hopes the song's feel-good rhythms will motivate girls from different continents to create their own dance routines representing their home styles on popular social media platforms.
The proposed "Beautiful Girl" dance challenge would see girls from Africa, America, and Europe initially competing with movements native to their regions, whether that's Afrobeat, dance, or any dance form. Girls from other parts of the world would then be encouraged to join in the dance challenge by choosing any of the lead dance styles that spark their interest.
Over time, H. 4real envisions one signature dance emerging as the most popular crossover style, representing the "winning" continent in a celebration of unity through dance. However, the ultimate goal is bringing girls and cultures together rather than dividing them competitively.
"With 'Beautiful Girl', I wanted to create a song that empowers women and inspires cultural exchange, especially among the youth," said H. 4real. "Through dance, we can learn about and appreciate differences while also finding our common ground. I hope the challenge brings joy and new friends to participants worldwide."
The single has been released on 24-11-2023 across major streaming platforms. Add "Beautiful Girl" to your playlists now to help catalyze this meaningful phenomenon and spread optimism globally. H. 4real believes music has the power to empower self-expression for all.
For more information on H. 4real and "Beautiful Girl", visit the links below.
https://h4real.hearnow.com/beautiful-girl
BIOGRAPHY OF H. 4REAL
H. 4Real  is a Ghanaian-Netherland-based artist known for his socially conscious music and party songs. He was born in Ghana and currently lives in Amsterdam, Netherlands.
H. 4Real began his music career in senior high school while working in his brother's barber shop during holidays. It was there that he was inspired to start performing after seeing a photo calendar of celebrities, including American R&B singer SISQO. Back in his hometown of Langbinsi, H. 4Real began gaining recognition for his performance skills.
In his third year of high school at Nalerigu Senior High, H. 4Real's talents were recognized when he was voted entertainment prefect. It was during this time that he also started writing his own songs.
After graduating high school, H. 4Real focused fully on his music career. He began recording his own songs in amateur studios. Unlike much of the popular music at the time which centered around dancing and partying, H. 4Real's lyrics tackle social issues while still maintaining an upbeat danceable sound.
H. 4Real is passionate about using his platform to get important messages across to his listeners around the world. He is not afraid to speak his mind through his music and addresses issues in a straightforward, "keep it real" manner. It is important to mention after senior high H. 4real holds several degrees from different universities in Ghana and in the Netherlands.
Since those early beginnings in Ghana, H. 4Real has now based himself in Amsterdam, Netherlands where he continues to record and perform his conscious rap music. He views each new song and performance as an opportunity to keep moving his career and message forward.
Stream Here: https://h4real.hearnow.com/beautiful-girl/