Ameyaw Bulldoc Hosts First Edition Of 'Venus Party'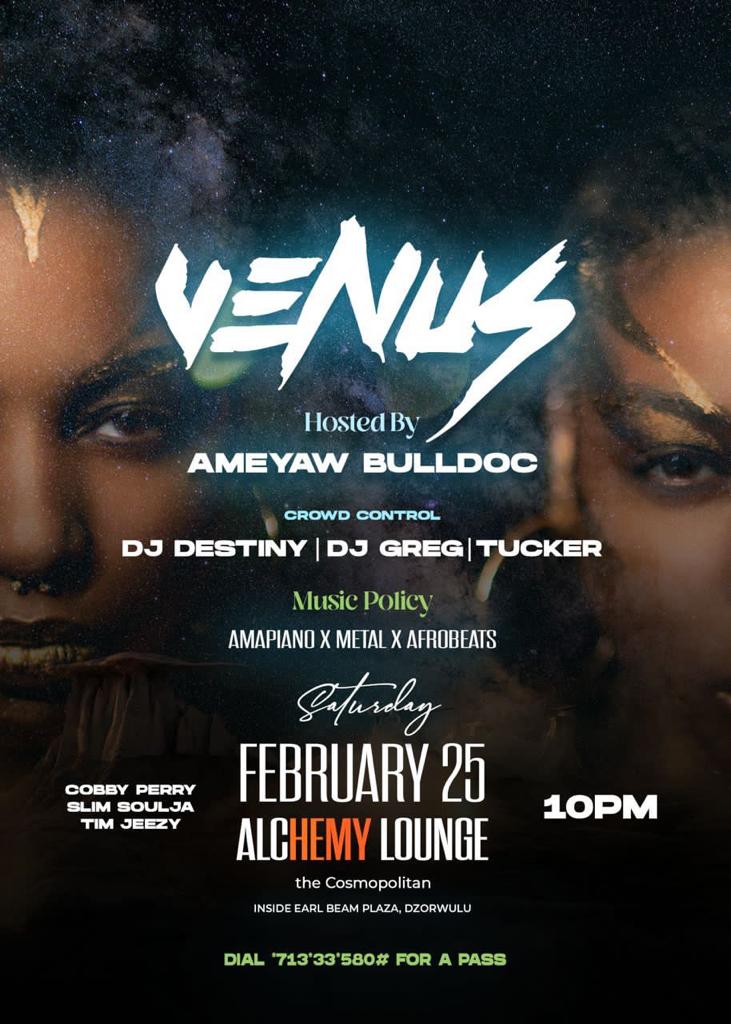 Night life in Accra has always been part of us because special moments also breeds happiness. The +233 events agency seeks to always serve Ghana with the best. They present to the world the "Venus" party – an unforgettable musical experience which will bring everyone together in a grand style.
This edition appeals to be an intriguing experience filled with quality music. The carefully organized event pledges to bring to its patrons many surprises beyond their expectations. Renowned social media manager, Ameyaw Bulldoc makes a debut appearance as official host of this epic party. As part of this ultimate edition of Venus party, they set to fuse in a lively experience for all patrons at large. A strictly afrobeats,amapiano & metal music policy including top Djs; Dj Greg, Dj Tucker & Dj Destiny on board that very night.Produced by leading events agency; +233 Events.This will be a monthly event throughout the year in the months of February,March & April respectively.
The "Venus" party comes off this month of February on the 25th; at exactly 10 PM. Alchemy Lounge, inside Earl Beam Plaza – Dzorwulu happens to be the exact location of this event.
Grab tickets by dialing *713*33*580# . Kindly Call 0249088488 for further enquiries.
(Article By: Kobby Loam)
Westline Entertainment Opens Nominations For 2023 Western Music Awards
Westline Entertainment, organizers of the prestigious Western Music Awards have opened nominations for the 7th edition.
The awards schemes has 29 categories in this year's edition, taking out one category from last year. "The 'Most streamed Artiste of the year' became a challenge last year as Artistes were submitting conflicting figures from different streaming platforms.
There is therefore the need for a clear definition with concentration on which of the streaming platforms we will concentrate on to determine the winner so for now it's out, pending the board's final decision" Nana Kwesi Coomson, head of Public Relations of Western Music Awards noted.
Works of Artistes and other stakeholders from February 2022 to January 2023 are considered eligible for this year's Western Music Awards.
The deadline for nominations is April 30, 2023.
According to the Public Relations Department of the organizers, the theme for this year's Western Music Awards is 'This Is Music.'
All entries should be submitted via www.wmagh.com/submission by April 30, 2023.
The categories up for nomination include:
Afropop Song of the year
Album/EP of the year
Artiste of the Year
Best Blogger/ Promoter of the year
Brass Band of the year
Best Collaboration of the year
Entertainment Show of the year
Most Popular Ghanaian Song of the year
Gospel Artiste of the year
Gospel Song of the year
Group of the year
Highlife Artiste of the year
Highlife Song of the year
Hiplife Artiste of the year
Hiplife Song of the year
Hiphop Artiste of the year
Hiphop Song of the year
Music Video of the year
New Artiste of the year
Music Producer of the year
Radio DJ of the year
Rapper of the year
Reggae/Dancehall Artiste of the year
Reggae/Dancehall Song of the year
Most Popular Regional song of the year
Song Writer of the year
Urban Gospel Song of the year
Western Diaspora Artiste of the year
Best Instrumentalist of the year