Atimbila Meets The Press: The Risen Star From Bolgatanga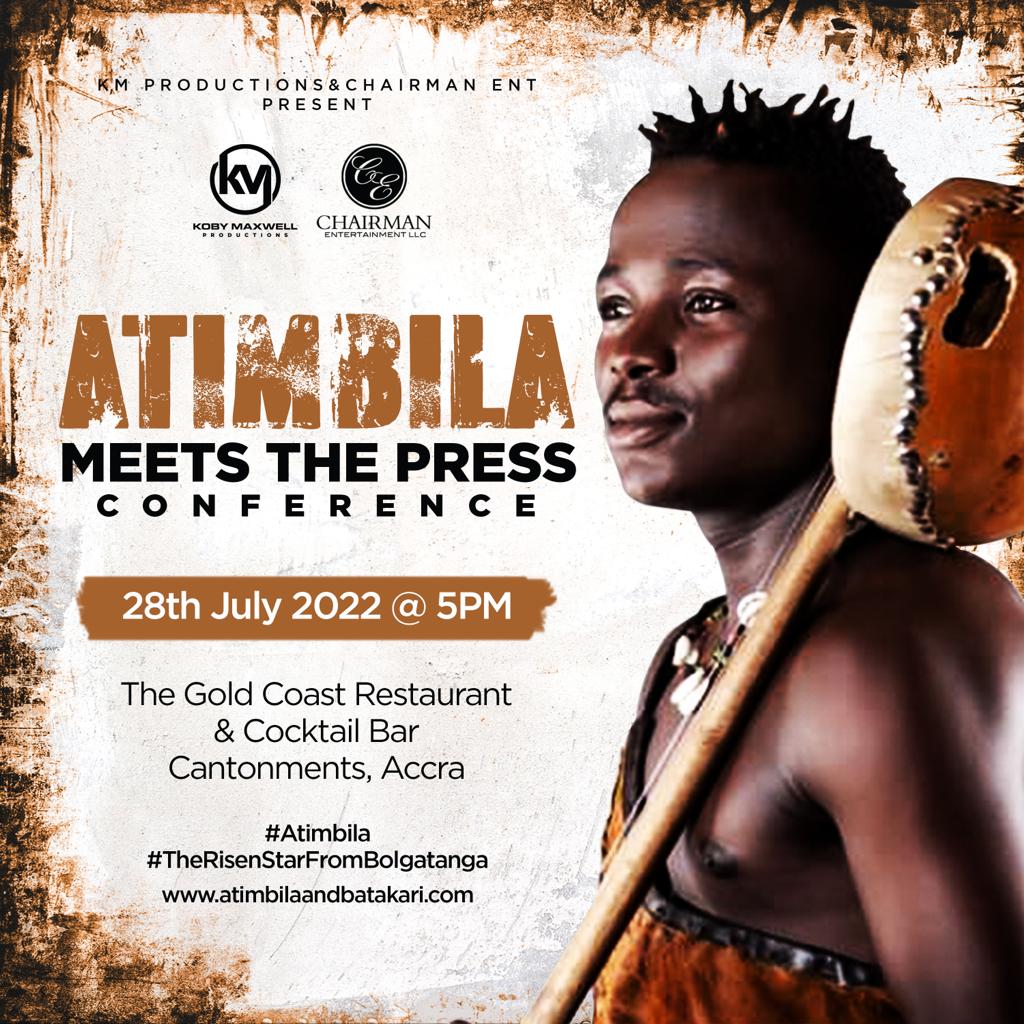 As part of procedural measures put in place toward the musical resurrection of the talented Bolgatanga-based musician Atimbila, officially announce the Recording and Management deal he has signed on and provide a platform to dole out accurate information on Atimbila's upcoming projects, Koby Maxwell Productions (KMP), a US-based production and talent management company invites entertainment journalists and bloggers to "Atimbila Meets The Press" conference.
The conference will take place at the Gold Coast Restaurant & Cocktail Bar, Cantonments, on Thursday 28th July 2022 at exactly 5:00 PM. The press conference will encompass a listening sessions, an introduction of the Atimbila and his Batakari Band, an upcoming tour, and an album release.
The discussion will be led by the KM Productions management and a seasoned entertainment journalist to respond to questions that will emanate.
Notwithstanding, the conference is strictly by invitation to selected entertainment journalists and bloggers. Generally, the conference is aimed at providing a glorious opportunity to share Atimbila's musical journey and his upcoming projects with entertainment journalists/bloggers, his fans and music lovers; establish a solid relationship with journalists/bloggers, showcase his creative talent to Ghanaians and beyond, announce his social media accounts to gain more followers, and to strengthen his brand to become a household name in the Ghanaian music industry. He will also use the opportunity to make Ghanaians know what to expect of him before the year ends.
ABOUT ATIMBILA 
Atimbila Ateere, popularly known by his stage name Atimbila is a traditional African musician who sings in his native language Frafra, Twi and English.
Atimbila epitomises deep musicality, powerful tonal texture and fiery renditions of traditional music and afro-fusion. The award-winning musician has recorded hit songs with the likes of Sarkodie, Ruff and Smooth, Strongman, Keche, among others.
Atimbila rose to fame after his sterling performance in MTN Hitmaker season one which he won. Born in Bolgatanga, he plays the Kologo (small guitar with two strings attached to a gourd) since age seven (7). His song, 'Nice Me' featuring the award-winning rapper, Sarkodie and Mohammed was released in 2018 to critical acclaim.
Further information on the production company and Atimbila can be found on the websites: http://kobymaxwellproductions.com and http://atimbilaandbatakari.com 

Kwesi Arthur's "Winning" Makes NFL's Madden 23 Soundtrack
Kwesi Arthur keeps winning.
Ghanaian rap artist Kwesi Arthur did not just settle on Winning as a track title as the song keeps winning.
Aside from making impressive streams since its release, the Vic Mensa-assisted track has made the cut for the NFL's Madden 23 Soundtrack.
This year's game features more than 30 songs on the track list, with heavy hitters Kendrick Lamar, Snoop Dogg, Nas, Tyler, the Creator amongst others.
For the first time in franchise history, the soundtrack has a prize quarterback, with 3-time GRAMMY® winning writer/producer/rapper Hit-Boy creating 33 exclusive beats for the game's cinematics.
In addition, Hit-Boy and two-time GRAMMY®nominee Cordae collaborated on the bespoke track 'CHECKMATE', which will debut in Madden NFL 23 around NFL Kickoff.
Here is the full list of songs included in Madden 23:
| Track No. | Song | Artist(s) |
| --- | --- | --- |
| 1 | "Logic (Lucky Charm Freestyle)" | Charmaine |
| 2 | "Cold" | King Green |
| 3 | "Touchdown" | Lord Afrixana |
| 4 | "Winning" | Kwesi Arthur feat. Vic Mensa |
| 5 | "The Best (TUA Remix)" | Eric Banks |
| 6 | "Sinister" | Cordae feat. Lil Wayne |
| 7 | "Hold Me" | Malachiii |
| 8 | "The Intro" | Risqkae feat. Rti$ |
| 9 | "Meet Joe Black" | Nas |
| 10 | "ENERGY!" | Cam Wallace |
| 11 | "You Gotta Choose" | Simon Said, Jazzfeezy ft. Steve Samson |
| 12 | "Come On, Let's Go" | Nigo feat. Tyler, the Creator |
| 13 | "Run It Up" | Bas |
| 14 | "Remember Me" | Benny the Butcher |
| 15 | "Impossible" | Blackway, Aeph, Koko |
| 16 | "LEVELS" | Boslen |
| 17 | "One Shot" | Gizzle feat. BRE-Z |
| 18 | "Are You Ready" | Marques Clae |
| 19 | "Put Me In The Game" | Symba |
| 20 | "How To Be A Star" | Malachiii |
| 21 | "Black Superhero" | Robert Glasper feat. Killer Mike, BJ the Chicago Kid and Big KRIT |
| 22 | "Crazy" | Doechii |
| 23 | "505" | Coast Concha |
| 24 | "GHETTO GODS" | EARTHGANG |
| 25 | "THE REV3NGE" | Joey Bad4$$ |
| 26 | "No Biggie" | Pop Chanel |
| 27 | "Champions" | Ty Dolla $ign feat. Wiz Khalifa |
| 28 | "Tear It Down" | Aha Gazelle |
| 29 | "Lifestyle" | Dreamville, Bas feat. A$AP Ferg |
| 30 | "Any Given Sunday" | OnCue |
| 31 | "Hit 'Em" | Cypress Hill |
| 32 | "Run It Up" | IMRSQD |
| 33 | "Scrape It Off" | Pusha T feat. Lil Uzi Vert and Don Toliver |
| 34 | "Conflicted" | Snoop Dogg feat. Nas |
| 35 | "Whole Team" | Trev Rich, Wallis Lane |
| 36 | "EXTRA CREDIT" | Big KRIT |
| 37 | "N95" | Kendrick Lamar |
| 38 | "Go Get It" | Symba |
| 39 | "Get Some Money" | Killer Mike |