Greatness Productions Outdoors New Movie 'Room 406'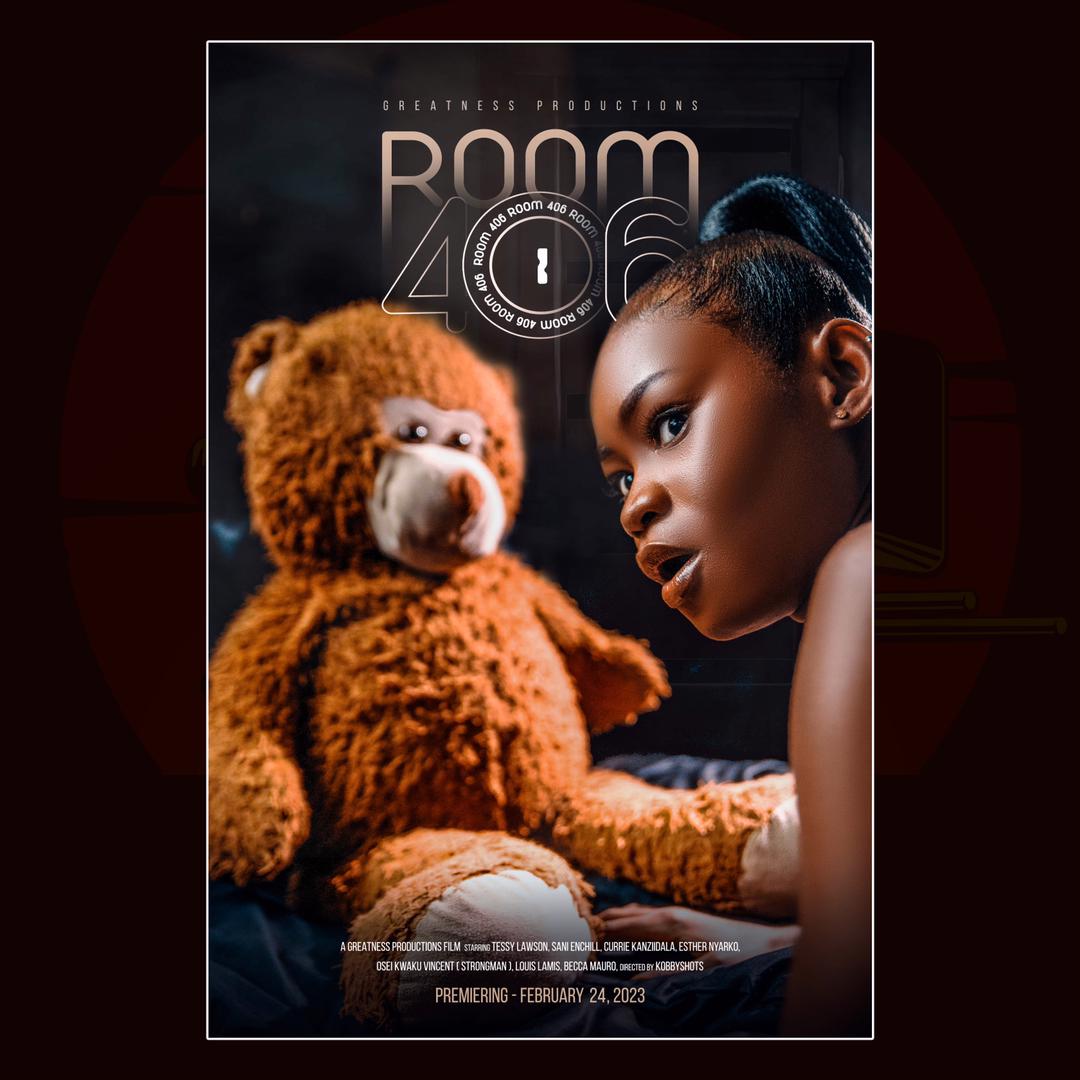 Greatness Productions, a Ghanaian video production house known for directing the visuals for various profiled music artists, has officially announced the release date of their first feature film, titled 'Room 406'.
Kobbyshots, Founder of Greatness Productions, announced the news on his Instagram page on August 7, 2022.
About The Movie
Room 406 is a masterpiece horror thriller that sheds light on the responsibilities that can befall uswithout warning,
as well as how the actions of others can have an impact.
The whole film's production, that is from pre-production to post-production was a total of 7 months, including 3 months for location scouting, grants and rehearsals. 2 months filming and 2 months editing (post production). The film's locations are all in Kumasi.
Kobbyshots produced and directed the film, with Casty Dampson serving as assistant director.
Tickets & Premiere Date
Room 406 will premiere on the 24th and 25th of February, 2023 at the Royal View Cinema and Sports Lounge (SG Mall), Kumasi. Official premiere tickets are currently on sale Royal View Cinema (SG Mall), Kumasi. To get your tickets kindly contact 0540821352 / 0241915226 / 0542236420 / 0207206562 / 0548958001
View this post on Instagram
Cast
Strongman, Louis Lamis of Kejetia vs Makola fame, Tessy Lawson, Sani Enchill, Maxi Made, Esther Nyarko,
and many more amazing characters gave their all to bring this story to light, according to the director, Kobbyshots.
Source: Dawuroo.net
Westline Entertainment Opens Nominations For 2023 Western Music Awards
Westline Entertainment, organizers of the prestigious Western Music Awards have opened nominations for the 7th edition.
The awards schemes has 29 categories in this year's edition, taking out one category from last year. "The 'Most streamed Artiste of the year' became a challenge last year as Artistes were submitting conflicting figures from different streaming platforms.
There is therefore the need for a clear definition with concentration on which of the streaming platforms we will concentrate on to determine the winner so for now it's out, pending the board's final decision" Nana Kwesi Coomson, head of Public Relations of Western Music Awards noted.
Works of Artistes and other stakeholders from February 2022 to January 2023 are considered eligible for this year's Western Music Awards.
The deadline for nominations is April 30, 2023.
According to the Public Relations Department of the organizers, the theme for this year's Western Music Awards is 'This Is Music.'
All entries should be submitted via www.wmagh.com/submission by April 30, 2023.
The categories up for nomination include:
Afropop Song of the year
Album/EP of the year
Artiste of the Year
Best Blogger/ Promoter of the year
Brass Band of the year
Best Collaboration of the year
Entertainment Show of the year
Most Popular Ghanaian Song of the year
Gospel Artiste of the year
Gospel Song of the year
Group of the year
Highlife Artiste of the year
Highlife Song of the year
Hiplife Artiste of the year
Hiplife Song of the year
Hiphop Artiste of the year
Hiphop Song of the year
Music Video of the year
New Artiste of the year
Music Producer of the year
Radio DJ of the year
Rapper of the year
Reggae/Dancehall Artiste of the year
Reggae/Dancehall Song of the year
Most Popular Regional song of the year
Song Writer of the year
Urban Gospel Song of the year
Western Diaspora Artiste of the year
Best Instrumentalist of the year