Oseadeeyo Nana Kumi Kodie I Honored With Most Influential Change Maker Humanitarian Awards Global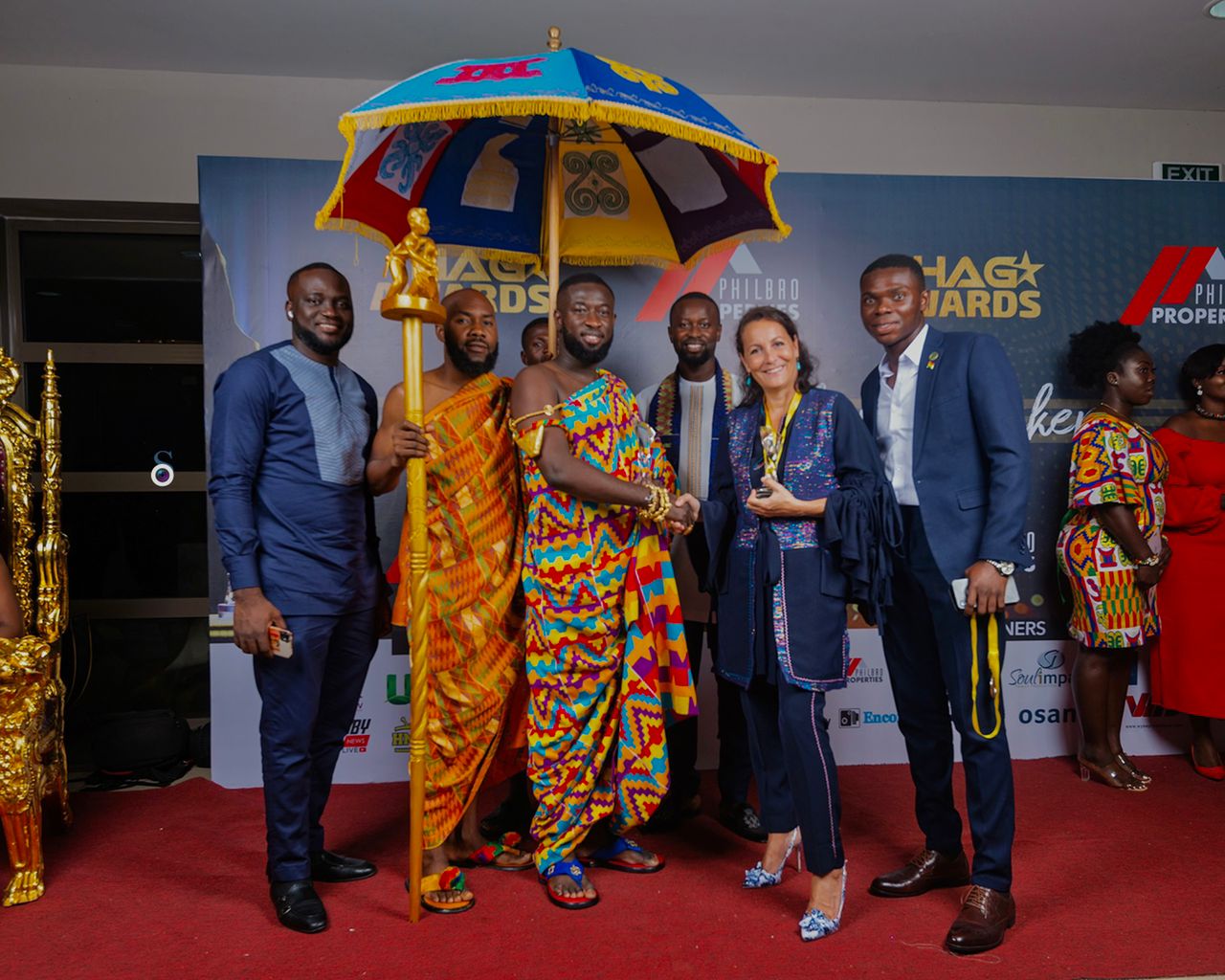 "Humanitarian awards global exists to identify, honor and celebrate a cross section of the world most influential Non profit organization.
This year, Oseadeeyo Nana Kumi Kodie 1,Nkosuohene of Akyem Osiem, UNACWA GOODWILL AMBASSADOR, FOUNDER and EXECUTIVE CHAIRMAN of DB GROUP was honored with the MOST INFLUENTIAL CHANGE MAKER of the year by the HUMANITARIAN AWARDS GLOBAL.
The prolific Humanitarian Awards Global lived up to its billing and hype. The event, was" held at the plush Labadi Beach Hotel to celebrate change makers globally.
It is an honour to welcome you to this year's Humanitarian Awards Global Engagement Sessions, a truly unique platform that gathers humanitarians, Change makers and conventions of personalities together to shape the future of humanitarian action."
The awards ceremony aims at identifying, recognizing and awarding extraordinary individuals and groups who are positively impacting the lives of people, nature and society globally. This year's award has gathered people from twenty(20) different countries across the globe impacting the world to be celebrated in grand style.
As we have all witnessed, the world is still going through global challenges which , has been the biggest challenge to humanitarian operations around the world. However, the heroes of our world, here and now, are worthy of admiration and celebration because they have chosen the path to help in the most extreme circumstances — and their impact and stories show that real life heroes exhibit an uncanny ability to persevere despite the odds, and do so with humility and dedication. You are all heroes who are doing extraordinary things in extraordinary times to help women, men and children whose lives have been upended by crises and difficulties for the past years.
"By these nominations, we do not seek to pay you back for your benevolence, but instead, to appreciate your efforts, hoping you get encouraged to do more for humanity and to serve as an inspiration to many others.
This is a campaign that celebrates change makers— a "thank you" to everyone here and out there who has committed their lives to helping others.
You are all heroes who are doing extraordinary things in extraordinary times to make this world a better place.
The world class set up and jaw-dropping performances from some of Ghana's finest musicians and talents made the event memorable.
The stage was set ablaze by sterling performances by talents such as Naana The Violin, Ghana Military Band. The event was hosted by two of Ghana's top master of ceremonies (MC's) Kwesi Kwatia and Chris Kata —who had such an amazing chemistry on stage.
Mobile Web Ghana's Africa Digital Skills Conference 2023 Records Outstanding Participation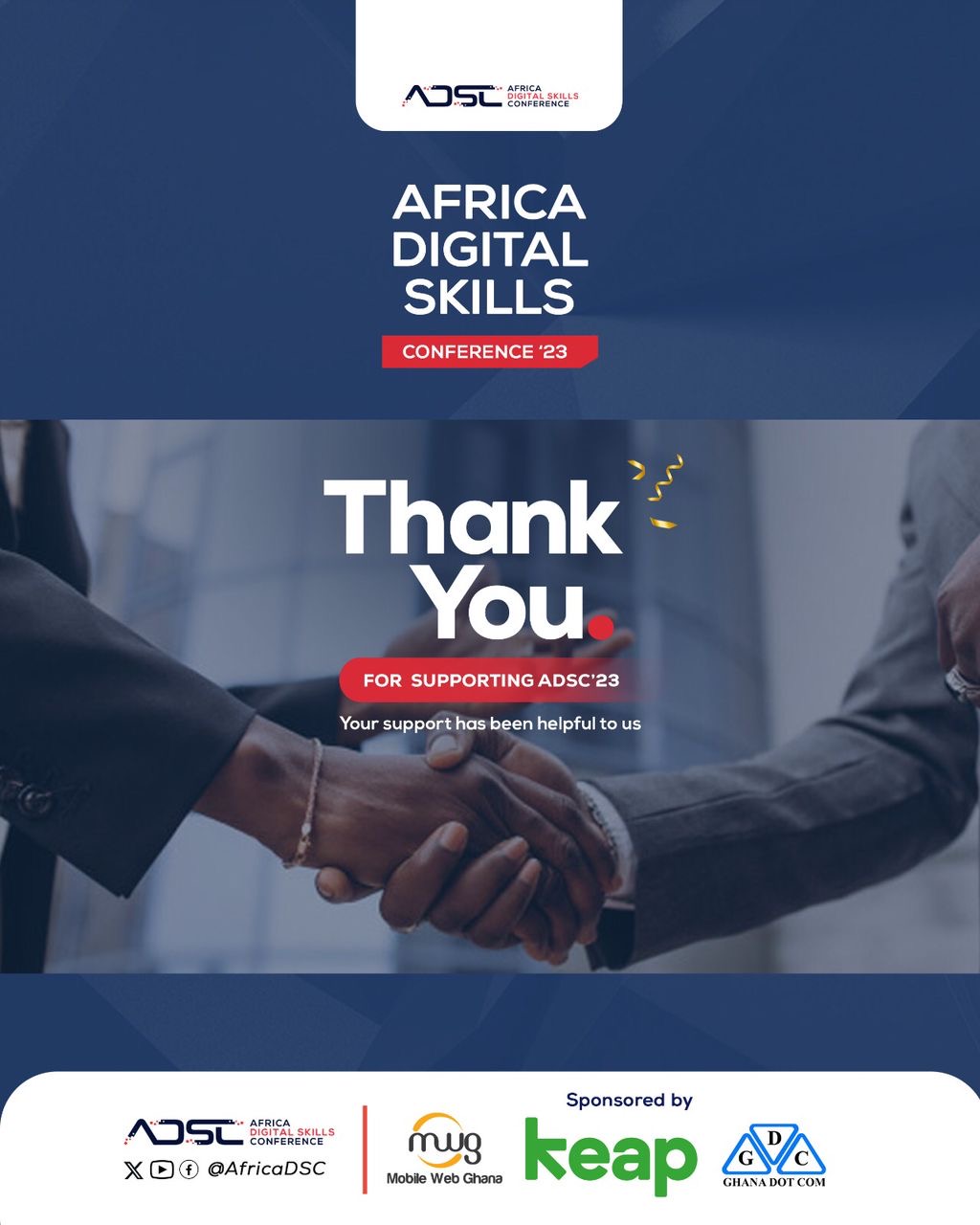 Mobile Web Ghana, in collaboration with Ghana Dot Com and Keap, is pleased to announce the successful conclusion of the fourth annual Africa Digital Skills Conference 2023, its most impactful to date. 
The event, which took place online from November 7th to November 9th, 2023, saw an unprecedented increase in active participation across the African continent.
This year's conference had a total of 7,162 session attendees, which is more than double the previous year's figure of 2,997.
Attendees at the sessions came from 53 different countries, demonstrating the continent's growing digital synergy and interest. The conference was led by 40 trainers, each of whom provided unique insights and knowledge in a variety of emerging and highly relevant digital fields.
Key digital skills such as data analysis, graphic design, digital marketing, social media marketing, programming, and product development were among the digital skills taught. 
These essential digital skills are the foundation of the modern digital economy, and this will enable the youth to positively contribute to the continent's growth story.
"We are thrilled by the high participation in this year's Africa Digital Skills Conference," said Florence Toffa, director of Mobile Web Ghana. This overwhelmingly positive response attests to changing digital needs and quantifies the value of this conference to Africa's expanding digital ecosystem."
The fourth annual conference's success demonstrates Mobile Web Ghana and its partners' unwavering commitment to promoting digital empowerment among African youths. 
It also highlights the potential for digital learning platforms to scale their impact and equip African youth with the skills they need to navigate and thrive in the digital economy.
The Africa Digital Skills Conference 2023 further confirms the advancement and potential of digital learning in Africa, and the organisers eagerly anticipate the fifth edition next year.
For more information about the next Africa Digital Skills Conference or to collaborate with us, please visit Africadigitalskillsconference.org or email info@mobilewebghana.org. 
About MobileWeb Ghana
Mobile Web Ghana is a non-profit organization dedicated to promoting digital literacy and entrepreneurship among Africa's youth. Their influential training, partnerships, and events help to shape Africa's expanding digital economy.
Contact :