Ras Kuuku Shuts Down Dome With Successful Puom Fest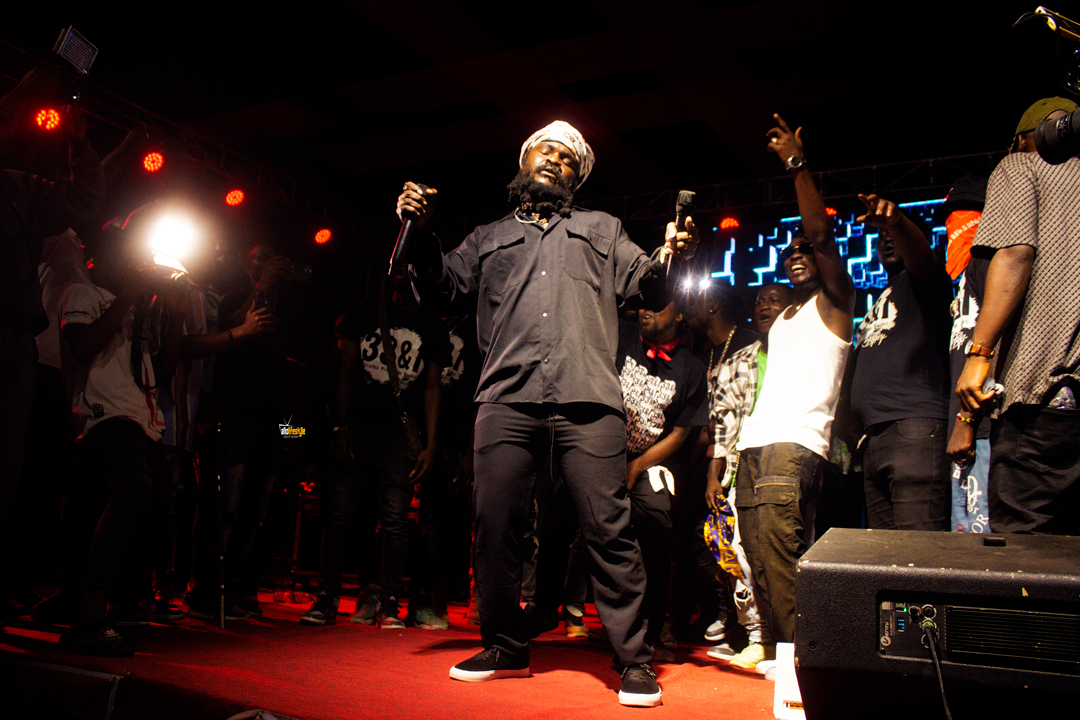 Ras Kuuku has gradually inked his name as a huge icon for his Dome Natives. The event pulled thousands for patrons to Dome who had a good swell through the night.
The event pulled thousands for patrons to Dome who had a good swell through the night. Veteran Singjay and Music Icon, Samini, was a special highlight of the night who rocked the stage. Sweet and sassy Singer, Wendy Shay, pulled a big surprise on attendees with her 'Survivor' performance among other hit classics.
Konkarah Jahvybz, Obibini, Kofi Jamar, Rashid Metal, among other musicians graced the stage. Puom Fest is a brainchild of Ras Kuuku designed to be an annual event to celebrate himself and the community.
Ras Kuuku recently released an album titled "3, 3 & 1" and he used the concert to also market the album and create some extra visibility. He is a great performer, songwriter who has defended Reggae & Dancehall Culture in Ghana. He began in his early years as a Hiplife artiste before switching style into the Caribbean flavour. Nonetheless, he is a versatile artiste who does Afrobeats too perfectly; he recently veered into the Gospel terrain dropping a latest single titled "Nobody".
Ras Kuuku is known to be a strong defender of consciousness and sane lifestyle as he promotes that through his music always, both on stage and in the studio while recording.
He is known for hit songs like "Father", "Ye Taali Mu", "Nwansina", "Oonda", "Wo", just to name a few. He is a multiple time nominee and winner of BASS Awards and Vodafone Ghana Music Awards (VGMA), respectively. He has won several other meaningful awards too.
Below are some of the photos from the event.
Westline Entertainment Opens Nominations For 2023 Western Music Awards
Westline Entertainment, organizers of the prestigious Western Music Awards have opened nominations for the 7th edition.
The awards schemes has 29 categories in this year's edition, taking out one category from last year. "The 'Most streamed Artiste of the year' became a challenge last year as Artistes were submitting conflicting figures from different streaming platforms.
There is therefore the need for a clear definition with concentration on which of the streaming platforms we will concentrate on to determine the winner so for now it's out, pending the board's final decision" Nana Kwesi Coomson, head of Public Relations of Western Music Awards noted.
Works of Artistes and other stakeholders from February 2022 to January 2023 are considered eligible for this year's Western Music Awards.
The deadline for nominations is April 30, 2023.
According to the Public Relations Department of the organizers, the theme for this year's Western Music Awards is 'This Is Music.'
All entries should be submitted via www.wmagh.com/submission by April 30, 2023.
The categories up for nomination include:
Afropop Song of the year
Album/EP of the year
Artiste of the Year
Best Blogger/ Promoter of the year
Brass Band of the year
Best Collaboration of the year
Entertainment Show of the year
Most Popular Ghanaian Song of the year
Gospel Artiste of the year
Gospel Song of the year
Group of the year
Highlife Artiste of the year
Highlife Song of the year
Hiplife Artiste of the year
Hiplife Song of the year
Hiphop Artiste of the year
Hiphop Song of the year
Music Video of the year
New Artiste of the year
Music Producer of the year
Radio DJ of the year
Rapper of the year
Reggae/Dancehall Artiste of the year
Reggae/Dancehall Song of the year
Most Popular Regional song of the year
Song Writer of the year
Urban Gospel Song of the year
Western Diaspora Artiste of the year
Best Instrumentalist of the year