Shatana Ironically Replies Nana Addo With New "Sika MpƐ Dede" Song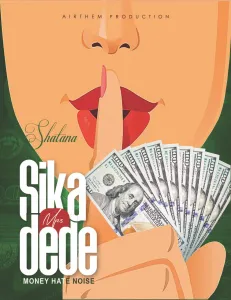 Philanthropist and vigilante musician, Shatana has released a brand new groovy song she titles, "Sika MpƐ Dede" to banter satirically the statement by the president, His Excellency, Nana Akuffo Addo over the same utterance he made some days ago in his 'State Of The Nation' address.
The president who to wit meant that the populace of Ghana should limit or better still stop agitating over the recent excessive hardships and economic crises because where there is so much "noise" and unrest, money cannot be made there.
Shatana as a social activist has laid the exact words, "Sika Mp3 Dede", by the president into a song and interwoven it with other general expressions to project the current hardships all around the country in the song.
Without much ado, I present to you, "Sika Mp3 Dede" (Money Hates Noise) by Shatana. Download, enjoy, share and share your thoughts on the song from below.
Kafui Chordz Releases Another Inspiring 'Story'
Silky-voiced Ghanaian songstress, Kafui Chordz, is excited to announce the release of her new single, "STORY'', scheduled for November 30.
Listen Here: https://kafuichordz.fanlink.to/story
The singer, whose sophomore album "DAFFODILS" made waves earlier this year, tackles vicious gossip with this song while encouraging listeners not to allow negative opinions get to them but to live and enjoy life regardless of the unbelievable falsehoods, saying;
"Story no dey change man, Story no dey finish, Story just be story, Just enjoy the story".
Kafui Chordz will count on the support of her fans and admirers to give STORY an amazing start on the airwaves and streaming platforms.
 STORY is produced by Daniee Pro, mixed and mastered by Mike Mills On Em and written by Celestine Agropah and Abasiekeme Raphael Abi.