The CEO Of The Ghana Free Zones Authority Embarks On A Regional Tour
"It is our mandate as an institution to support you to achieve more exports as Ghana takes the needed steps to address its structural economic setup. Accelerating our export drive is imperative to becoming the Ghana we want. " -Amb. Mike Oquaye Jr.
With these words, the CEO of the GFZA kicked off a week-long engagement with licensed free zone companies in the Ashanti and Western Regions of Ghana.
With two enclaves in the western region and one in the Ashanti region, Ghana's lead agency for regulating the free zones scheme and Ghana's Special Economic Zones remains ready to do more.
Amb. Mike Oquaye Jnr. and his team kicked off the customer-facing engagement in the Ashanti Region.
His first stop was at Angel FM, where he answered questions from listeners and the presenter centered on the mandate of the institution and the plans Ghana has to accelerate the development of the Great Kumasi Industrial City Project.
The CEO stressed the need for Ashanti-based industrialists with export orientation to take advantage of available incentives
As part of the regional tour, the team visited Juaben Oil Mills Limited, an agro-processing company at the heart of adding value to oil palm, among others.
After touring the factory and engaging with its leadership, the GFZA team then paid a courtesy call to the Omanhene of the Juaben traditional area, Nana Otuo Siriboe II.
Amb. Mike Oquaye thanked Nana for his continuous support for industrialization and for guiding and shaping the growth of Juaben Oil Mills from inception to date.
Nana Otuo Siriboe II commended Amb. Mike Oquaye for his stellar performance at the GFZA and urged him to do more to achieve the mandate given to him by the President on behalf of the Good People of Ghana.
The GFZA then visited OLAM Ghana Limited, one of Ghana's largest licensed agro-food processing firms. OLAM Ghana is an adept buyer and exporter of processed cocoa, cashew, and rice in Ghana.
Amb. Oquaye encouraged OLAM to do more for the sector as he committed to working closely with the company to clear bottlenecks that might impede their growth
The next company visited by the team was Logs & Lumber Ghana Limited, one of the leading timber logging and processing companies in Ghana and the West African sub-region. Amb. Mike Oquaye noted the company's concerns and committed to working with other state actors to address them.
In the Western Region, Ambassador Oquaye and the team paid a working visit to the Regional Minister, Hon. Kwabena Okyere Darko Mensah, to discuss pertinent land-related issues before heading to the Lands Commission with the team.
Before meeting the Regional Minister, Amb. Mike Oquaye was interviewed extensively on Skyy FM during which he updated listeners on a wide range of issues about Free Zones and its activities in the Western Region.
The GFZA team then met with the CEO and management team of Wayoe Engineering & Construction Limited, one of the largest privately-owned Ghanaian engineering and construction companies in West Africa.
The group toured the new factory of the company to get a sense of the investment the company had made and its growth potential. Amb. Mike Oquaye committed to working closely with the company to find lasting solutions to some identified problems.
The team then visited Amalitech Limited, a social enterprise that harnesses the potential of remote work to build the future of work in sub-Saharan Africa.
Speaking at the end of the one-week working visit, Amb Mike Oquaye expressed satisfaction with the achievements of many of the institutions in the two regions.
He also charged the regional heads of the GFZA to continue delivering value to all GFZA-licensed businesses.
Mr. Ziblim Alhassan, Director of Administration and Human Resources; Mr. Jesse Agyepong, Director of Corporate Affairs; and Mr. Lawrence Osei-Boateng, Director of Business Development and Research, accompanied Ambassador Mike Oquaye on the working visit. He was also accompanied by Mr. Ricky Osei Owusu, Regional Head of the Ashanti Region; Hajia Hanatu Abubakar, Regional Director for the Western Region; Mr. Fred Agyei-Gyane, Manager in Charge of Compliance; and Mr. Harry Ansah, Personal Assistant to the CEO.
Professor Ama Ata Aidoo, A Well-Known Ghanaian Author, Dies At The Age Of 81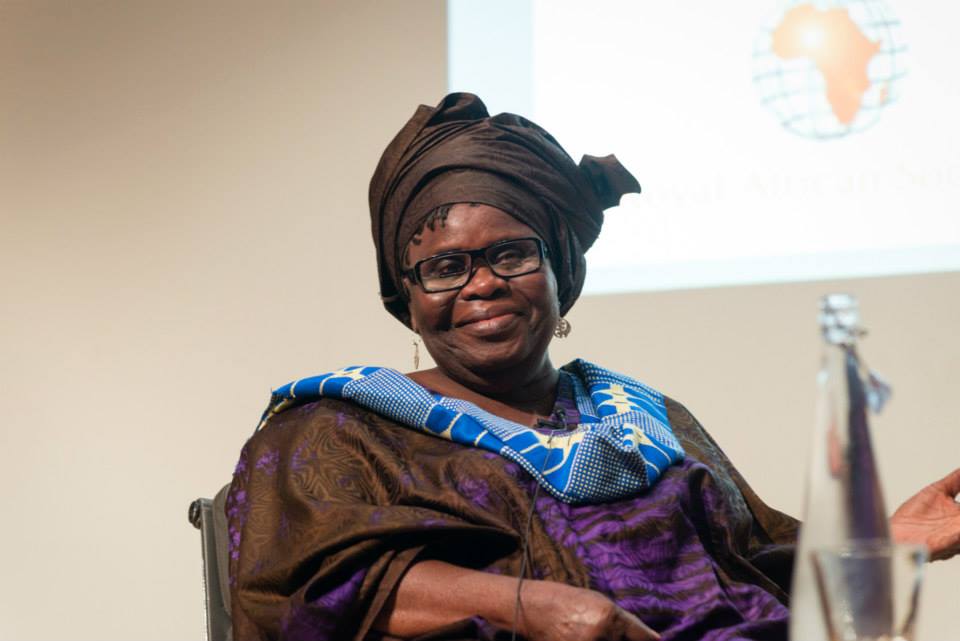 One of Africa's most-celebrated authors and playwrights, Ghanaian Ama Ata Aidoo, has died aged 81.
A renowned feminist, she depicted and celebrated the condition of African women in works such as The Dilemma of a Ghost, Our Sister Killjoy and Changes.
She opposed what she described as a "Western perception that the African female is a downtrodden wretch".
She also served as education minister in the early 1980s but resigned when she could not make education free.
In a statement, her family said "our beloved relative and writer" passed away after a short illness, requesting privacy to allow them to grieve.
A university professor, Ata Aidoo won many literary awards for her novels, plays and poems, including the 1992 Commonwealth Writers Prize for Changes, a love story about a statistician who divorces her first husband and enters into a polygamous marriage.
Her work, including plays like Anowa, have been read in schools across West Africa, along with works of other greats like Wole Soyinka and Chinua Achebe.
When asked by BBC HARDTalk's Zeinab Badawi in 2014 if she regarded herself as a writer with a mission, she replied: "In retrospect, I suppose I could describe myself as a writer with a mission. But I never was aware that I had a mission when I started to write.
"People sometimes question me, for instance, why are your women so strong? And I say, that is the only woman I know."
She was a major influence on the younger generation of writers, including Nigeria's awarding-winning Chimamanda Ngozi Adichie.
"When I first discovered Ama Ata Aidoo's work – a slim book on a dusty shelf in our neighbour's study in Nsukka [in south-eastern Nigeria] – I was stunned by the believability of her characters, the sureness of her touch and what I like to call, in a rather clunky phrase, the validating presence of complex femaleness.
"Because I had not often seen this complex femaleness in other African books I had read and loved, mine was a wondrous discovery: of Anowa, tragic and humane and many dimensional, in Aidoo's play set in the 1800s in Fantiland; of Sissie, the self-assured, perceptive main character of the ambitious novel Our Sister Killjoy, who wryly recounts her experiences in Germany and England in the 1960s; or of the varied female characters in No Sweetness Here, my favourite of Aidoo's books."
Nigerian Afrobeats superstar Burna Boy included her powerful criticism of colonialism and ongoing exploitation of Africa's resources in his song Monsters You Made in 2020:
"Since we met you people 500 years ago. Look at us, we've given everything. You are still taking. In exchange for that, we have got nothing. Nothing. And you know it. But don't you think that this is over now? Over where? Is it over?"
Ama Ata Aidoo was born in a small village in Ghana's central Fanti-speaking region in 1942.
Her father had opened the first school in the village and was a strong influence on her.
At the age of 15 she decided that she wanted to be a writer and within just four years, had achieved that ambition after she was encouraged to enter a competition.
"I won a short story competition but learned about it only when I opened the newspaper that had organised it, and saw the story had been published on its centre pages and realised the name of the author of that story in print was mine," Ata Aidoo once said as she looked back at her career.
"I believe these moments were crucial for me because … I had articulated a dream… it was a major affirmation for me as a writer, to see my name in print."
She went on to study literature at the University of Ghana and became a lecturer, publishing her first play in 1964.
After her 18 month-foray into politics she went into self-imposed exile in Zimbabwe for a time and became a full-time writer.
Source: BBC