The Second Edition Of Ghana Music Awards- France Kicks Off On May 6, 2023 In Paris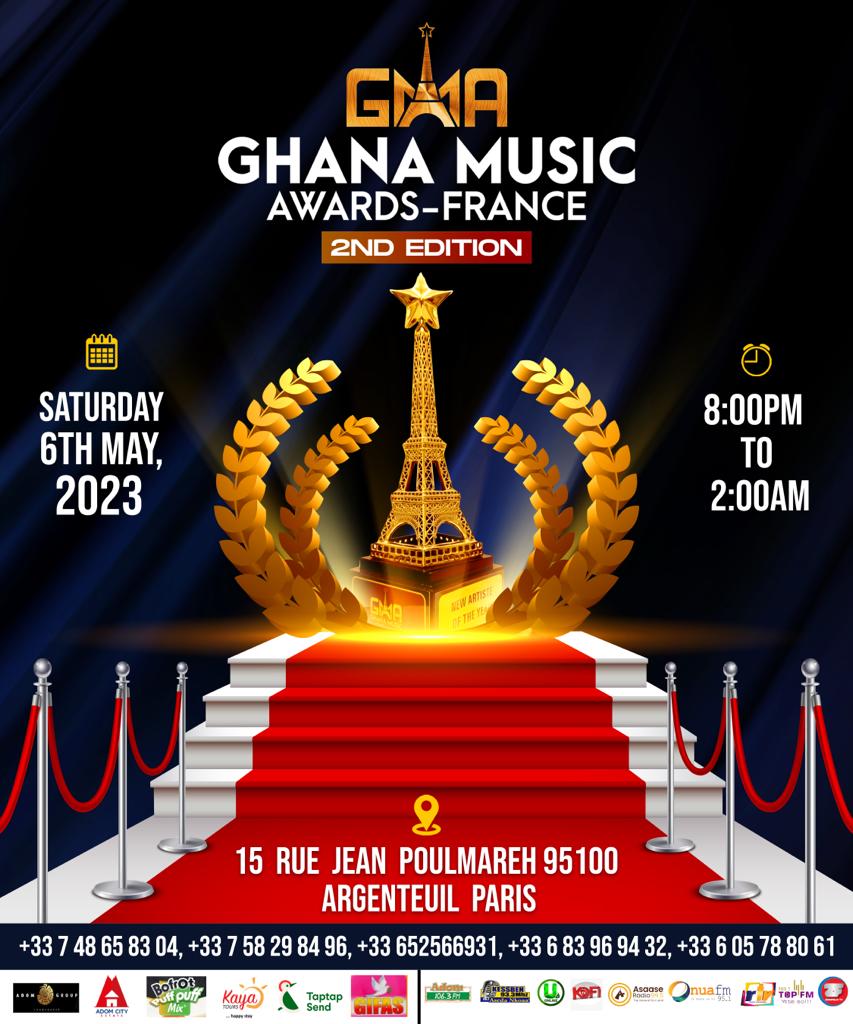 The inaugural Ghana Music Awards-France were presented last year in Toulouse, France and notable Ghanaian musicians and celebrities attended.
The previous episode featured a visit from Madam Anna Bossman, the ambassador of Ghana to France, Mr Dijillali Lahiani, the Deputy Mayor of Toulouse, Nana Appiah Kubi, the Ghanafuohene in Toulouse, Mr Huste Momno, Vice President of Afro Event, Mr. Abeiku Aggrey Santana, Chairman of GMA France among other Nigerian, Cameroonian and Congolese nationals.
During the debut of the Ghana Music Awards (GMA) France, award winning gospel musician Ohema Mercy, stunning vocalist Akwaboah, and legendary Ghanaian musician Pat Thomas delighted listeners with some good music during the launch.
The event this year promises to be huge with a ton of surprises and awards for artists in various categories and a guarantee of high-profiled individuals of various calibers.
The Ghana Music Awards – France 2023 will take place on May 6, 2023, at 15 Rue Jean Poulmareh 95100 Argenteuil, Paris. A special nomination unveiling event will take place in Accra – Ghana on March 31, 2023 for the main awards banquet to take place on May 6, 2023.
Since the world has become a global community, the awards are designed to close the barriers between nations and promote Ghana through utilizing networks and organizations.
Check images from the fisrt edition
Keep checking back for updates on the 2023 Ghana Music Awards-France.
Source: Dawuroo.net
Westline Entertainment Opens Nominations For 2023 Western Music Awards
Westline Entertainment, organizers of the prestigious Western Music Awards have opened nominations for the 7th edition.
The awards schemes has 29 categories in this year's edition, taking out one category from last year. "The 'Most streamed Artiste of the year' became a challenge last year as Artistes were submitting conflicting figures from different streaming platforms.
There is therefore the need for a clear definition with concentration on which of the streaming platforms we will concentrate on to determine the winner so for now it's out, pending the board's final decision" Nana Kwesi Coomson, head of Public Relations of Western Music Awards noted.
Works of Artistes and other stakeholders from February 2022 to January 2023 are considered eligible for this year's Western Music Awards.
The deadline for nominations is April 30, 2023.
According to the Public Relations Department of the organizers, the theme for this year's Western Music Awards is 'This Is Music.'
All entries should be submitted via www.wmagh.com/submission by April 30, 2023.
The categories up for nomination include:
Afropop Song of the year
Album/EP of the year
Artiste of the Year
Best Blogger/ Promoter of the year
Brass Band of the year
Best Collaboration of the year
Entertainment Show of the year
Most Popular Ghanaian Song of the year
Gospel Artiste of the year
Gospel Song of the year
Group of the year
Highlife Artiste of the year
Highlife Song of the year
Hiplife Artiste of the year
Hiplife Song of the year
Hiphop Artiste of the year
Hiphop Song of the year
Music Video of the year
New Artiste of the year
Music Producer of the year
Radio DJ of the year
Rapper of the year
Reggae/Dancehall Artiste of the year
Reggae/Dancehall Song of the year
Most Popular Regional song of the year
Song Writer of the year
Urban Gospel Song of the year
Western Diaspora Artiste of the year
Best Instrumentalist of the year