Travel For Free: Adansi Travels And Enterprise Insurance Reward Customers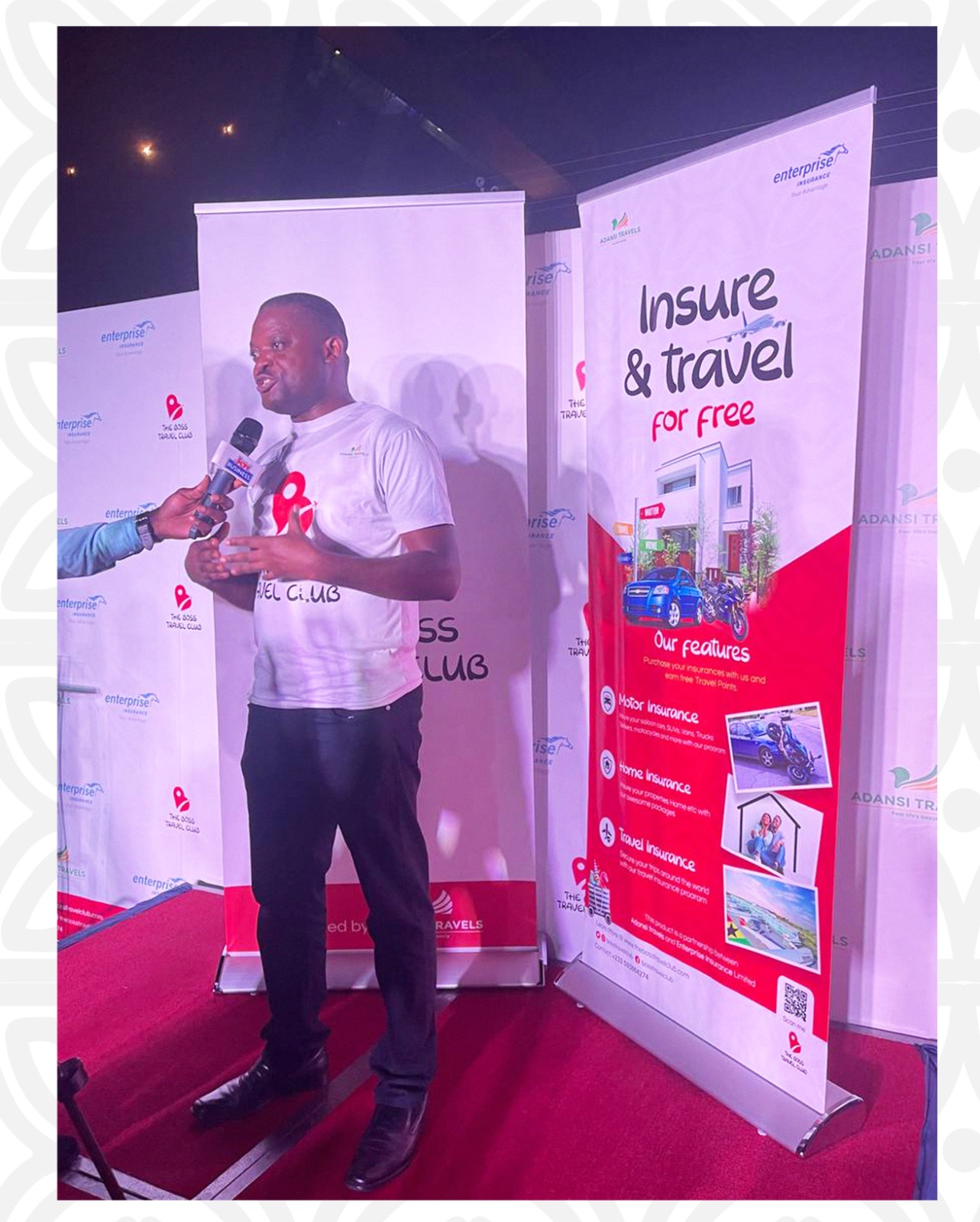 Adansi Travels LTD partners with Enterprise Insurance LTD to introduce an industry-first product dubbed "Insure & Travel for Free" under their boss travel club.
The offer seeks to make the travel dreams of many come through as it will give customers who buy their Motor, Home, and Travel Insurance through Adansi Travels the opportunity to accumulate travel points that can be redeemed for discounted or free travel.
Speaking at the launch, the Managing Director of Adansi Travels, Mr. Gideon Asare detailed the need for such an innovation hinging it on the organization's goal to encourage domestic travel as they create a family but not customers with impeccable services.
"The launch of the Insure & Travel for Free" is an industry-first initiative which Adansi is proud to have pioneered." He said.
He added that, "this product is targeted at the members of the Boss Travel Club who are regular travelers. As such, it is intended to reward their loyalty by reducing the cost of engaging in both local & international travel & tour activities."
He was however quick to add that this initiative and many others are open to all Ghanaian lovers of travel, and anyone who dreams of traveling someday but finds it hard to get a budget or forgo other needs to save towards traveling.
The CEO of the Ghana Tourism Authority (GTA), Mr. Akwasi Agyeman, lauded Adansi Travels and Enterprise Insurance for partnering to offer travelers some relief with respect to cost as they encourage people to explore Ghana and promote local tourism. He also stated that "initiatives like the Insure & Travel for Free are key in promoting both foreign and domestic tourism since the travel points accumulated by customers can easily be redeemed for more trips or reduce the travelers cost burden when purchasing travel packages from Adansi Travels.
He ended by entreating industry players within the travel and tour space to create value-added services with the aim of encouraging tourism on all fronts with a focus on local tourism.
The Head of Marketing and Communications at Enterprise Insurance LTD, Mr. Mark Addison on his part said, "As a leading Non-Life Insurer, Enterprise Insurance is happy to partner with Adansi Travels, to offer peace of mind, convenience, and superior insurance services which will consequently improve the quality of local and international travel for customers."
The launch ceremony was on 15th March 2023 at the Head Office of Adansi Travels at East Legon, Accra with key personalities such as the CEO of the Ghana Tourism Authority, Senior Management teams of both Enterprise Insurance and Adansi Travels as well as customers & partners of both entities in attendance.
Renowned media personalities such as George Quaye and Kwame Sakyiamah (Lexis Bill) testified to the benefits of being members of the Boss Travel Club and encouraged travelers and future travelers to buy their Motor, Home, and Travel insurance from enterprise so they can join the globetrotters.
Westline Entertainment Opens Nominations For 2023 Western Music Awards
Westline Entertainment, organizers of the prestigious Western Music Awards have opened nominations for the 7th edition.
The awards schemes has 29 categories in this year's edition, taking out one category from last year. "The 'Most streamed Artiste of the year' became a challenge last year as Artistes were submitting conflicting figures from different streaming platforms.
There is therefore the need for a clear definition with concentration on which of the streaming platforms we will concentrate on to determine the winner so for now it's out, pending the board's final decision" Nana Kwesi Coomson, head of Public Relations of Western Music Awards noted.
Works of Artistes and other stakeholders from February 2022 to January 2023 are considered eligible for this year's Western Music Awards.
The deadline for nominations is April 30, 2023.
According to the Public Relations Department of the organizers, the theme for this year's Western Music Awards is 'This Is Music.'
All entries should be submitted via www.wmagh.com/submission by April 30, 2023.
The categories up for nomination include:
Afropop Song of the year
Album/EP of the year
Artiste of the Year
Best Blogger/ Promoter of the year
Brass Band of the year
Best Collaboration of the year
Entertainment Show of the year
Most Popular Ghanaian Song of the year
Gospel Artiste of the year
Gospel Song of the year
Group of the year
Highlife Artiste of the year
Highlife Song of the year
Hiplife Artiste of the year
Hiplife Song of the year
Hiphop Artiste of the year
Hiphop Song of the year
Music Video of the year
New Artiste of the year
Music Producer of the year
Radio DJ of the year
Rapper of the year
Reggae/Dancehall Artiste of the year
Reggae/Dancehall Song of the year
Most Popular Regional song of the year
Song Writer of the year
Urban Gospel Song of the year
Western Diaspora Artiste of the year
Best Instrumentalist of the year