Lyrical Joe Drops Steamy 10-Minutes Rap For 6th Edition Of 5th August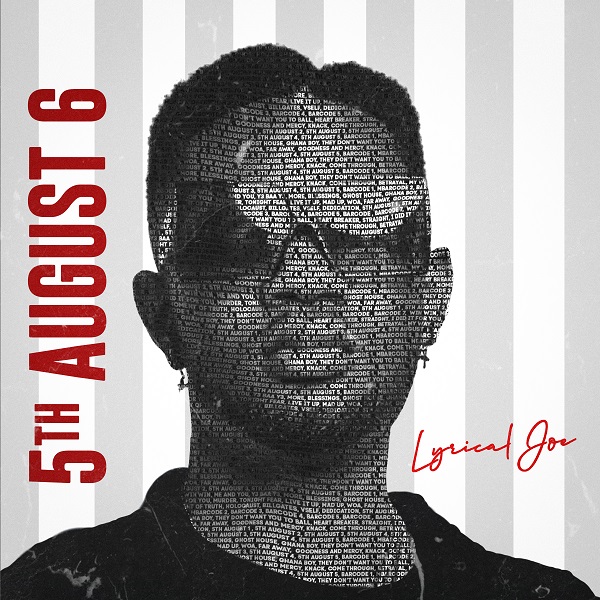 Now this is mind blowing! It's not even about the 10-minutes rap Lyrical Joe presents for this edition of his "5th August" record; the way he was able to put together water-tight lyrics and still make a lot of sense with puns and similes just feels like an audio Bible!
On Friday, August 5, 2022, under 2MG Record Label, Lyrical Joe served this steamy rap flow to celebrate his birthday.
Stream Song Here On Digital Stores: https://songwhip.com/lyrical-joe/5th-august-6
Now what is this "5th August" Concept all about?
In 2017, Lyrical Joe birthed the concept to release a rap song dubbed "5th August". The idea received a warm welcome from his then management "Galatrava records". The first edition released was in 2017 which paved the way for greatness. Surprisingly, the song went on to win more fans and actually exceeded his expectations. Since the first edition of this series, he has been consistent with over 4 series under his belt now. The Ghanaian rapper is known widely for his lyrical prowess and pen game.
Why 5th August?
Lyrical Joe chose 5th August for this series because that marks the day he was born. To celebrate his new age (birthday), the rapper has instituted that day to release this project. The idea is to release a record-setting masterpiece that will define an era with good lyrical content and good production, he stated. Since the beginning of the 5th August series, no rap songs have reached Lyrical Joe's lyrical standard across the continent.
The Impact of "5th August"
Lyrical Joe's 5th August series has been widely celebrated in Ghana and across Africa. The 5th edition of the 5th August series won him the best rapper in the biggest awards scheme in the Ghanaian entertainment fraternity, Vodafone Ghana Music Awards (VGMA) 2022. This certified hardwork has established a backbone for the future 5th August series.
About Lyrical Joe
Joseph Gamor but known in showbiz as Lyrical Joe or LJ. The Ghanaian rapper was born on the 5th of August 1995 in Accra but hails from Mafi Kumasi in the Volta region of Ghana. Lyrical Joe is widely known for his 5th August series.
Brazzi Steps On The Scene With A Love Song "Obaa Hemaa"
It's Africa's time now on the global front, and every now and then, many fresh and stupendous talents get launched unto the scene. Brazzi is sure one of them but sorry, he sounds different from the many other ones you have already listened to.
Brazzi – the Ghanaian born Afrobeats Crooner officially announcing his presence with this new song titled "Obaa Hemaa" as his major release is about to take you on a roller coaster ride.
"Obaa Hemaa" he titles it is a song that does not only get you into urban sound from Africa but also effortlessly compels with his swooning voice.
So What's The Story Behind "Obaa Hemaa" You Need To Know?
The Afrobeats genre has constantly evolved during the past few years. This evolvement has occurred due to the endless development of African artiste around the world. "Obaa Hemaa" happens to fall into the Afrobeats spectrum, however, also present a western mood with an African touch to its roots.
Song employs both English and Twi in its lyrics. It presents listeners with a conversation between a man and a woman of his choice. He describes the traits of the woman that draws him closer to her. Alongside convincing her that he is the man for her and even though times get hard, and he can't regularly get in touch with her due to circumstances, he is still going to keep it a hundred and would try his best to give her the world that she deserves because he can't settle to give her less.
Stream Song Here: (when link is available): https://ditto.fm/obaa-hemaa-brazzi
Who is Brazzi?
Emmanuel Brazy Mensah (born on the 31st of August 31, 2000), popularly known as Brazzi, is a Ghanaian singer and songwriter. He is one of Ghana's novel rising Music Talents towing the path of Afrobeats.
Brazzi took time to build a strong passion for music, stemming from his childhood (early years growing up). He professionally started his music career in the year 2020 and released his first single "Somemu" in the same year, 2020. This single featured Gonzi, who is one of Ghana's upcoming Afrobeats talent. However, after Brazzi's first release, he went off the scene working tirelessly to develop his talent and engage his audience in a more effective way.
Throughout his journey of advancing his music talent, Brazzi has made it known to his audience that he has always been inspired by his older brother who unfortunately passed away in the year 2015. Isaac who was the brother of Brazzi, laid the foundation of music by introducing him to the acoustic guitar. Despite losing his brother who's his greatest motivation, Brazzi also looks up to musicians such as Show Dem Camp, Cavemen, Bob Marley, Lucky Dube and some other great Afrobeats Musicians creating influences across the world.
Kindly follow Brazzi on his Social Media Connects Below:
✓ Instagram – @Forever_Brazzi
✓ Twitter – @Forever_Brazzi
✓ TikTok – @Forever_Brazzi
✓ TikTok – @Forever_Brazzi
✓ Facebook – Brazzi Musiq