Strongman, Kofi Mole And Others To Shut Offinso Down On Christmas Day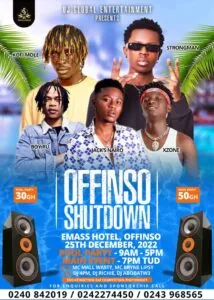 After the twelve months hustling and bustling, everyone truly needs to have a nice holiday and relaxation to refresh the mind and body. OG Global Entertainment has decided to give the folks of Offinso and beyond a treat as they host, "Offinso Shutdown" at Emass Hotel in Offinso this Christmas.
The event which is slated for 25th December, 2022 has Strongman and Kofi Mole as headliners. The event is in two folds. The pool party which commences at 9am to 5pm and the main event which continues from 7pm till daybreak. Other artistes on bill are, Jacks Nairo, Boy Ru, Xzone, etc. The MC's for the event are, MC Mall Wasty and MC Bryne Lipsy. The DJs on deck are, DJ 4PM, DJ Richie and DJ Abobatw3.
The rate is a cool 30 cedis for the pool party and 50 cedis for the main event. There will be fun games, rap battles and photoshoots as side attraction. For enquiries and sponsorship contact, 0240842019, 0242274450 or 0243968565.
Watch a snippet of the event's promo video from below.
Obrafour Kicks Off US Tour 2023 With First Concert On March 3rd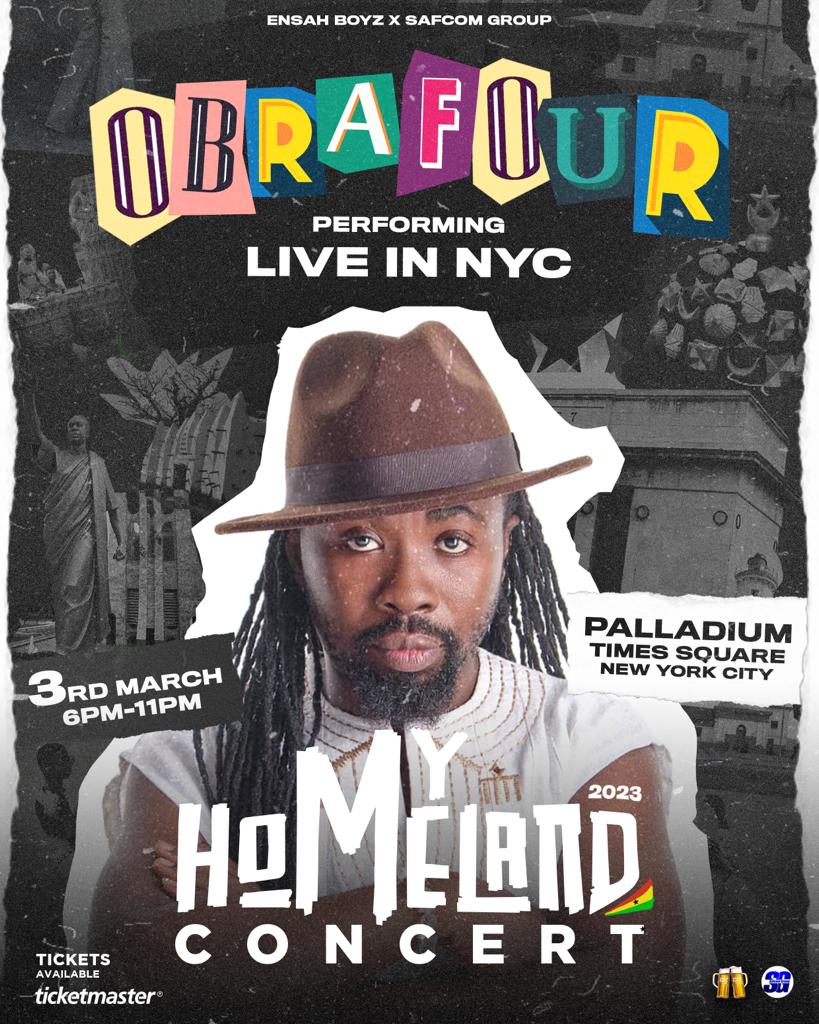 Celebrated Ghanaian Hiplife Legend, Obrafour, gets back on the road in March for his Music Tour of USA.
Dubbed "My Homeland Concert", Obrafour takes on the stage at the Palladium, Times Square in New York. The show starts at 18:00hrs ET – 21:00hrs ET.
The aim of the concert is to bring together various Ghanaian, Diasporean (Black American) Communities as well as American citizens and other citizens of the world. The event is to also highlight the rich Ghanaian Culture through the power of Hiplife music, which has been the foundation music for today's African sounds celebrated as Afrobeats.
The event powered by Ensah Boyz x Safcom Group.
Tickets for the event are already on sale via www.TicketMaster.com for sale.
This maiden event is supposed to spark the tall list of shows to be played by the Ghanaian Music Icon, Obrafour, across various parts of USA.
Obrafour is one of the foundation Fathers of Hiplife Music in Ghana; he has contributed tremendously to the growth, evolution and sustenance of the rap culture on the local scene in Ghana since the 1990s. His debut Album "Pae Muka" released in 1999 still stands out of dozens of Hiplife catalagoes, as arguably, the best of the earliest Hiplife records released. In 2019, Obrafour had a string of gigs and events to celebrate a 20-year journey for that debut Album. Within the space of 2 decades and still countin, Obrafour has released several other Albums, notable among them are "Asem Sebe", "Heavy", "Kasiebo", just to name a few.
His upcoming USA Tour also typifies a good reconnect with his Fans abroad and rekindle the Ghanaian spirit during the time of the country's Independence Celebrations which happens yearly on March 6.
Below are details for the other venues lined up for his US Tour 2023:
March 3, 2023 — Performance: New York
Palladium Times Square
1515 Broadway ,New York, NY 10036
7pm
April 23, 2023 — Performance: Boston Royale
279 Tremont St, Boston, MA 02116
7pm
April 27, 2023
Performance: Louisville KY
The Mercury Ballroom 611 S 4th St, Louisville, KY 40202
7pm
April 30, 2023
Performance: Minneapolis MN
Fine Line Music Cafe 318 N 1st Ave, Minneapolis, MN 55401
7pm
May 3, 2023
Performance: Seattle WA
Columbia City Theatre
4916 Rainier Ave S, Seattle, WA 98118
7pm
May 7, 2023
Performance: Portland Or
Roseland
8 NW 6th Ave, Portland, OR 97209
7pm
May 16, 2023
Performance: Oakland CA
New Parish
1743 San Pablo Ave, Oakland, CA 94612
7pm
May 23, 2023
Performance: Los Angeles
Fonda Theatre
6126 Hollywood Blvd, Los Angeles, CA 90028
7pm
June 10-11, 2023
Single Video shoot
Florida Film House Studio 570 NW 26th Street Miami FL, 33127
7am till late
June 20, 2023
Album Photo shoot with Jonathan Mannion
MAPS STUDIO MANAGEMENT 212 Collins Avenue Miami Beach, FL 33139
6am till late
June 26-30, 2023
Album Mixing
Content shoot
The Mix Room
2940 W Burbank Blvd. Burbank, CA 91505
2pm – late
July 16, 2023
Single Release Party NY
SOBs
8pm
July 19, 2023
Single Release Party LA
Bellasco Ballroom
1050 S Hill St, Los Angeles, CA 90015
8pm
July 20, 2023
Single Release Party Atl
XS Lounge
3337 Buford Hwy NE, Atlanta, GA 30329
10pm
August 2, 2023
Leave to Ghana for African / Break
August 18, 2023
Arrival in Boston
21 Aug 2023
Performance: Uni Tour
Northeastern University
Set Time: 9pm
August 28, 2023
Performance: Uni Tour
Harvard HBS African Association Conference Party
Set Time: 8:30pm
September 4, 2023
Performance: Uni Tour
Syracuse University ASU
Set Time: 9pm
September 11, 2023
Performance: Uni Tour
Suny Buffalo: Africa Night Showcase
8pm
September 18, 2023
Performance: Uni Tour
Stonybrook University
7:30pm
September 22, 20223
Video Shoot for 2nd Single
Circle House Studios
Call Time 10am
September 25, 2023
Performance: Uni Tour
University of Pennsylvania: Wharton Africa Business Forum Party
Set Time: 7:30pm
October 3, 2023
Performance: Uni Tour
Towson University
Set Time: 8:30
October 4, 2023
Performance: Uni Tour
University of Maryland
7pm
October 11, 2023
Performance: Uni
Stanford University
8pm
October 16, 2023
Performance
Ohio – Newport Music Hall
Doors 7:30pm
October 20, 2023
Performance
Mr Smalls –  400 Lincoln Ave, Millvale, PA 15209
Doors 7:30pm
October 25, 2023
Performance
9:30 Club  815 V St NW, Washington, DC 20001
Doors 7:30pm
October 26, 2023
Performance
The Underground, 820 Hamilton St, Charlotte, NC 28206
Doors 7:30pm
October 17 – 30, 2023
Studio Sessions
Capital Studios, 1750 Vine St, Los Angeles, CA 90028
4pm
November 4, 2023
Performance
Lollapalooza – Chicago, Illinois
tbc
November 10, 2023
Performance
(Story: Elorm Beenie)