Bisa Kdei Meets British High Commissioner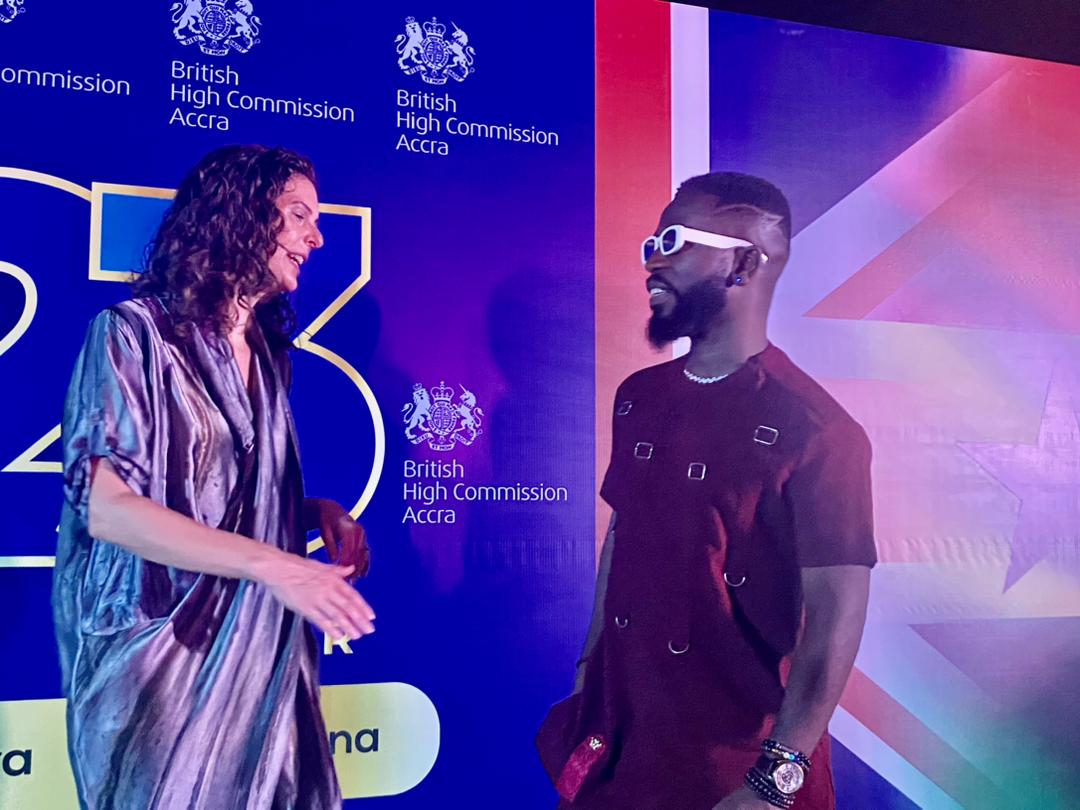 At the United Kingdom in Ghana event on Thursday, Ghanaian Highlife star Bisa Kdei met with Madam Harriet Thompson, the British High Commissioner to Ghana.
The Diaspora Engagement New Year Event saw numerous astute individuals across the creative arts sector network with one another to seek new ways of enhancing bilateral relations.
Bisa Kdei, one of the program's guest artists, had the opportunity to share his ideas with the diaspora community about how to grow Ghanaian music in the United Kingdom and vice versa.
Speaking in an interview on the sidelines of the event, he said the engagement was strategic and a fruitful one as he looked to improve as an artiste.
"First of all, the event was fun, especially hanging with some members of the diaspora, and I have learned new things during my interactions with them, which hopefully will help me improve my craft," he said.
When asked about when he would drop his new album, Bisa Kdei stated that the album was ready and would be released in the coming weeks with some exciting features.
"My fans should watch for my album because I have got a lot of surprises for them, and it will certainly be one of the best he has released thus far," he said.
Westline Entertainment Opens Nominations For 2023 Western Music Awards
Westline Entertainment, organizers of the prestigious Western Music Awards have opened nominations for the 7th edition.
The awards schemes has 29 categories in this year's edition, taking out one category from last year. "The 'Most streamed Artiste of the year' became a challenge last year as Artistes were submitting conflicting figures from different streaming platforms.
There is therefore the need for a clear definition with concentration on which of the streaming platforms we will concentrate on to determine the winner so for now it's out, pending the board's final decision" Nana Kwesi Coomson, head of Public Relations of Western Music Awards noted.
Works of Artistes and other stakeholders from February 2022 to January 2023 are considered eligible for this year's Western Music Awards.
The deadline for nominations is April 30, 2023.
According to the Public Relations Department of the organizers, the theme for this year's Western Music Awards is 'This Is Music.'
All entries should be submitted via www.wmagh.com/submission by April 30, 2023.
The categories up for nomination include:
Afropop Song of the year
Album/EP of the year
Artiste of the Year
Best Blogger/ Promoter of the year
Brass Band of the year
Best Collaboration of the year
Entertainment Show of the year
Most Popular Ghanaian Song of the year
Gospel Artiste of the year
Gospel Song of the year
Group of the year
Highlife Artiste of the year
Highlife Song of the year
Hiplife Artiste of the year
Hiplife Song of the year
Hiphop Artiste of the year
Hiphop Song of the year
Music Video of the year
New Artiste of the year
Music Producer of the year
Radio DJ of the year
Rapper of the year
Reggae/Dancehall Artiste of the year
Reggae/Dancehall Song of the year
Most Popular Regional song of the year
Song Writer of the year
Urban Gospel Song of the year
Western Diaspora Artiste of the year
Best Instrumentalist of the year